Real contacts, personal experiences: PSI is coming to Düsseldorf again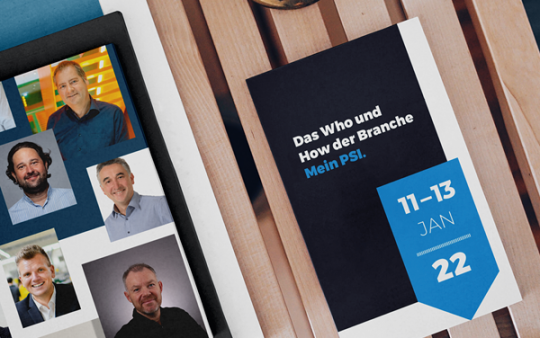 A lot has happened since spring 2020 – in the world, in our industry and at PSI. We have all discovered what our strengths are and how they can carry us through crises. We have learned how important good contacts, flexibility and inventiveness are. And we have learned that there is no alternative for PSI as Europe's largest leading trade fair for the promotional products industry – an important series of events that has grown continuously over decades.
Looking ahead
The PSI network of committed industry partners has proven itself well in the face of the many challenges in recent months. PSI is proud to be part of this community and is therefore particularly looking forward to the next PSI presentation fair, which will take place from 11 to 13 January 2022 in Düsseldorf's exhibition halls 9 – 11.
Members as mission
For the industry and PSI, however, this event does not mean a return to normality. In the meantime, it has gone new ways together with its members, gained new experiences. One of them is to concentrate on what makes the success of PSI, its events and services possible in the first place: its members, exhibitors and visitors. Under the new positioning "The Who and How of the industry. My PSI.", industry decision-makers sum up in a testimonial campaign what, from their point of view, speaks in favour of PSI membership:
Growth through new offers
In addition to this new strategic orientation, however, PSI is above all about actively shaping the future of the industry. That is why the PSI Trade Show 2022 will be expanded to include numerous additional digital offerings, which have developed from this year's virtual events PSI DIGITAL and PSI DIGITAL FRIDAYS, among others: high-quality on-demand content, the PSI TV Studio, the Media Lounge, digital networking, extensive sourcing opportunities and much more.
More focused, more dynamic, more international: exhibitors can present their products and services at Europe's largest industry platform – and visitors can experience live why there is no way around the PSI Trade Show when it comes to long-term success in the promotional products business. Manufacturers, importers, retailers, finishers and consultants in the industry should therefore make a note of the date for the PSI Trade Show 2022 now. The current status of the PSI 2022 programme can be found here.