5 Years SPRINTIS Netherlands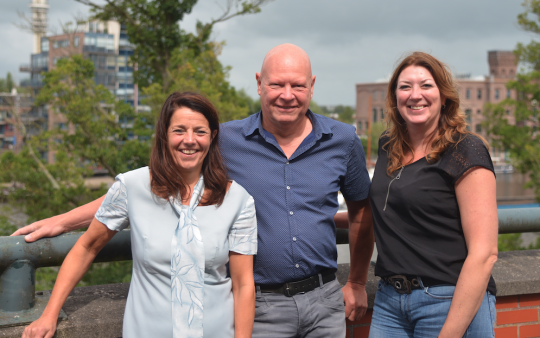 On 19 September 2021, SPRINTIS celebrated precisely 5 years in the Netherlands. The internationally active specialist wholesaler that sells to printers, bookbinders and companies needing promotional products went online with its first international, Dutch-language, shop in 2016 and simultaneously opened a subsidiary near Amsterdam. Due to positive business and market developments, the BeNeLux sales team was expanded last year. The booming online wholesaler, with its head office in Würzburg, now has subsidiaries and country-based online shops throughout Europe and continuously expands its international sales team.
"The sales figures in BeNeLux speak for themselves. SPRINTIS has established itself as a firm fixture on the Netherlands market in the space of five years. We are delighted over this success, which is largely credited to our committed sales team," explains Christian Schenk, managing director SPRINTIS Schenk GmbH & Co. KG, continuing: "Combined, our colleagues in the Netherlands have about 90 years' industry-specific sales experience in foreign and domestic sales and excellent customer contacts. Their success has arisen from this know-how, in conjunction with enormous flexibility and lots of fun doing their work."
The team headed by Paul Spitzen currently looks after more than 1,700 customers, and thus already exceeds, in the first half of 2021, 2020's total customer number by 5%.
A comparably positive development is being seen in the total of incoming orders. Both parameters have tripled within the last four years and the upwards trend is continuing. At least 10 new customers are coming on board through online orders every day.
SPRINTIS is on a permanent course for growth and now enjoys comprehensive coverage in the European region. In addition to the existing online shops www.sprintis.de (Germany), www.sprintis.nl (Netherlands), www.sprintis.ch (Switzerland) and the English-language shop www.sprintis.eu, the company has launched three more online shops within about a year with www.sprintis.fr (France), www.sprintis.es (Spain) and recently www.sprintis.it (Italy). www.sprintis.de
BU
Picture: The SPRINTIS Team BeNeLux team (from l.): Simone de Jong, Sales; Paul Spitzen, Area Sales Manager; Frencis Hoogmoed; Sales. Photo: SPRINTIS Schenk GmbH & Co. KG