WerbeWiesn 2021: personal interaction again at long last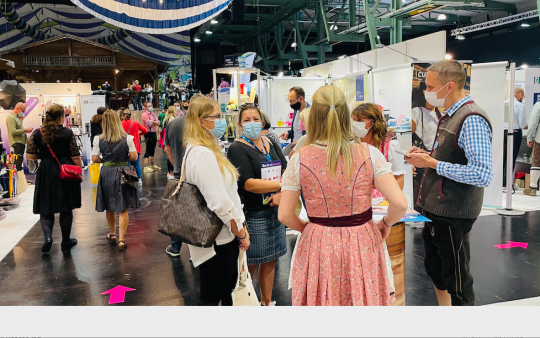 On 15th September the gates of the 15th WerbeWiesn opened for almost 500 customers from the promotional product industry. Thanks to a hygiene concept with 3-G-rule and a Corona testing tent, the WerbeWiesn was able to take place again as usual in the second "Corona year". The 116 exhibitors, which included numerous well-known brand manufacturers, received more than 8,000 customer enquiries in total. But what was more important was finally being able to communicate again directly and in person. Many voiced what everyone thought and felt: "We're back again at long last!". Representative of most exhibitors, Ingo Kaemper, managing director of micx-media in concept GmbH & Co KG, said: "I was particularly impressed by the high quality of the visitors. Customers were open to new products, came with concrete ideas, were curious and made many interesting enquiries". The focus at the WerbeWiesn was upon sustainable promotional products, which have played a major role in contemporary product ranges for quite some time.
The traditional tapping of the barrel followed right on time at noon. Thomas Gottschall, managing director of EIDEX GmbH, tapped the wooden barrel with Traunsteiner Hofbräu beer in three strokes, while the assembled guests looked on with eager anticipation and, following the obligatory proclamation "O'zapft is!", drank a toast to a successful and healthy WerbeWiesn. The sumptuous lunch buffet "to go" was subsequently opened and participants were able to enjoy good conversations at bistro tables in a Bavarian atmosphere with real alpine hut and maypole.
EIDEX GmbH from Baierbrunn near Munich, organiser of the WerbeWiesn, together with the four co-hosts (admixx, Amedea, CD Werbemittel, the Hagemann group), extend their heartfelt thanks to all visitors and exhibitors who adhered to the hygiene regulations in an exemplary manner and "together made the WerbeWiesn 2021 a particularly successful event once again". And after the WerbeWiesn is before the WerbeWelt, which will be launched on 23rd March 2022 at the new MOTORWORLD in Munich. WerbeWelt will be held under the auspices of the four promotional product agencies dkpromotion, werbemax, w+i and EIDEX, who will welcome a limited number of 95 exhibitors. www.eidex.de