Candid interview with Petra Lassahn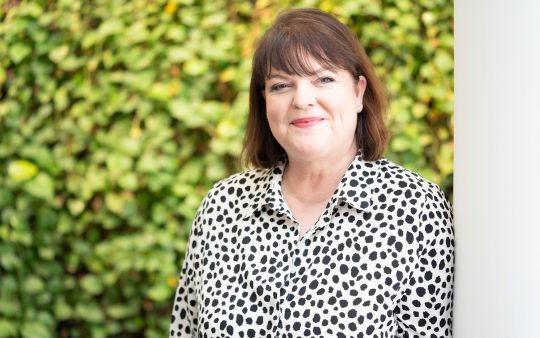 The PSI Director answers three questions.
When talking to members we discovered that there is still a bit of uncertainty about what rules will be in effect for attending the upcoming PSI trade fair.
Yes, I know and I would like to clarify the rules here so that everyone has more clarity:
Industry customers may only be invited by PSI distributors. PSI will no longer invite any industry customers and will not allow them to attend via affiliation with other trade fairs. PromoTex and Viscom will also no longer take place. The exhibition themes at these trade fairs that are important for the promotional products industry such as customisation themes are being integrated into PSI.
Distributors may invite a maximum of 10 industry customers. We do not want these guests to walk around the fair without being accompanied by a professional guide.
Exhibiting companies may invite distributors: both members and non-members. It is mandatory for non-member distributors to legitimise themselves as promotional product distributors in their registration. Non-members will not be able to access the special PSI services for members which will be offered during the trade fair.
Anyone who illegally gains access to PSI will be banned from the event upon being discovered.
Regarding the costs: PSI does not charge for any of the previously mentioned forms of access or invitations. An entry fee will only be charged for promotional product distributors who are not PSI members and have not received an invitation.
How is the booking situation developing for exhibitors now that the trade fair in January 2022 is about three months away?
To date we have 223 registered exhibitors, which is two-thirds the number of registrations we had last year at the same time. Nearly all the large exhibitors have booked a stand and there are interesting new and smaller exhibitors who have also reserved a stand. Thus, we are in a favourable position as we are just ramping up our business development and advertising phase for the event. I am very confident that we are going to have a great post-corona start to the new year with our leading trade fair. I am also optimistic that our new style will be rewarded. We have received positive feedback from distributors in our many discussions with them.
What about the visitor side of the planning? Corona has led to a lot of uncertainty in the trade fair sector, especially in terms of the technical aspects of travelling. What can you say in this respect?
I cannot say much in terms of visitor interest yet since our ticket shop is only going to be up and running in October. However, I do know that we have received five enquiries from international associations, which would like to know what requirements there are for "bringing" their members to the event. This is a good and important sign that visitors from Spain, Sweden and England are talking about PSI and are busy organising their trip. As of right now, we will be implementing an entry policy at the upcoming PSI which requires proof of vaccination or recovery from a Covid 19 infection. This policy ensures the safety of everyone in attendance and also allows them more freedom. It will be safer for everyone, including our international guests. We have decided to announce this early on so that everyone has time to prepare and can look forward to this wonderful tradeshow.
The interview was conducted by Manfred Schlösser/PSI Journal.