Double distinction at the Print & Media Awards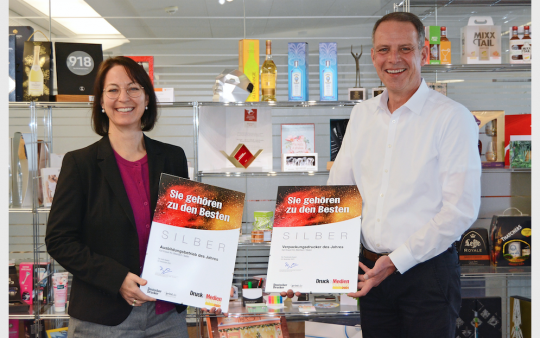 The Print & Media Awards are regarded as the most important distinction in the German printing and media industry and were awarded for the 17th time this year. The packaging and promotional articles specialist Karl Knauer from Biberach was nominated by the expert jury for four categories – "Package Printer of the Year", "Most Innovative Company of the Year", "Training Company of the Year" and "Environmentally Oriented Company of the Year". Amid the strong competition, the Black Forest-based company was able to secure two second places and thus a silver award for the categories "Training Company of the Year" and "Packaging Printer of the Year" during the award ceremony in Berlin in early November. The family business from the Black Forest is thus still among the top companies in the branch.
"We are delighted that we were able to win over the jury both with regard to our innovative products as well as the quality of our training programmes", says Stefanie Wieckenberg, managing director of Karl Knauer KG. "Because when people talk about sustainability, they are generally referring to environmental aspects and responsible resource management. However, for us as a family business the focus on is the people, with whom and for whom we want to meaningfully shape the future. And this begins with training which empowers our trainees to contribute their knowledge and talents to society." www.karlknauer.de
Photo: Stefanie Wieckenberg and Michael Deronja are delighted to receive the awards. Image: Karl Knauer KG.