Agile development for a lifestyle product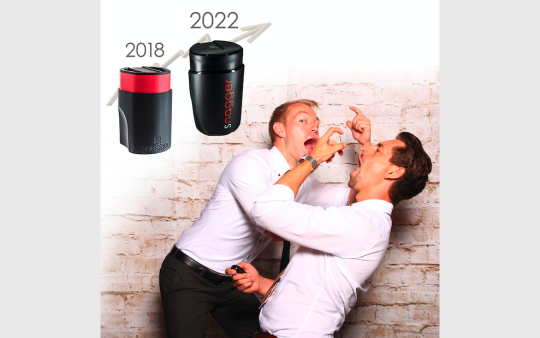 The snack dispenser SNAGGER is a brilliant invention of the start-up company from Zwickau which bears the same name. The SNAGGER is the first refillable, hygienic snack dispenser for your selected favourite snacks. Among the individualisation options are logo printing on the front, doming refinement on the lid as well as applying pantone colours of your choice to the individual parts.
The company snagger GmbH prefers to cooperate with regional suppliers and is proud that all five individual built-in components as well as the packaging are from Germany. The products are also printed and ultimately assembled in Saxony.
Managing director Sebastian Wirth describes how the agile development of this lifestyle product took place: "In June 2018, we successfully completed the SNAGGER crowdfunding campaign and therefore were able to finance a small 3D printing station. At that time, it was clear that there is definitely a market for our product. The challenge now consisted in 'printing' a first small series of approximately 200 items in a few weeks and making our crowdfunding customers happy. With a printing time of several hours per item this was indeed suspenseful. In the following months, countless SNAGGERS originated this way which were already sold through the online shop. Practically in a weekly rhythm, it was possible to implement geometric improvements – one of the significant advantages of 3D printing. This way we were able to produce small quantities and develop an ideal product through many rounds of improvements in a relatively short time."
In September 2020, the SNAGGER went into production and has been manufactured 100 % in Germany ever since through injection moulding. www.snagger-germany.com
Photo: The snagger managing directors Georg Lange and Sebastian Wirth.