Boost sales success through sustainable Social Selling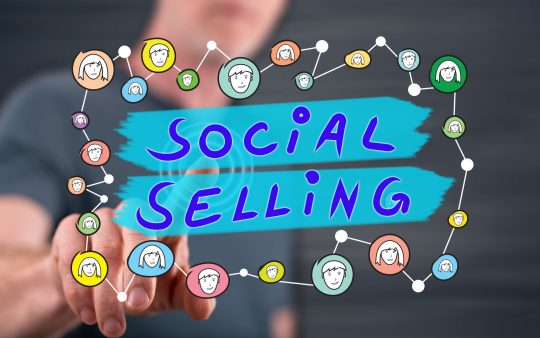 Social media has changed sales processes. Christian Vith of online marketing agency OMA365 from Krefeld explains how companies can identify and use their online distribution potential using social media.  
Like, share, follow, comment: for the major share of Internet users these functions are taken for granted in social media – at least in the private sphere. Christian Vith, Marketing Manager at OMA365, an Online Marketing Unit of Reiber Marketing GmbH, knows the code of conduct to be followed for professional social media usage and how enterprises can sustainably boost their distribution success by a consistent social-selling strategy that is integrated into the business routine.
What is Social Selling?
By definition Social Selling is a process to initiate and maintain customer relations as part of the sales process, namely online on social media. To this end, companies share relevant content and interact directly with potential customers. Important key words here are Personal Branding, Brand Building as well as Social Listening. "First, companies have to mine data via their relevant platforms and identify decision-makers in the community," Christian Vith says and adds: "As the next step I position my company as an important source of information by demonstrating my expert know-how and place myself as a serious expert in my community." Only then can companies or entrepreneurs dare to address selected target persons directly to prepare sales talks in forums or groups and to generate new leads.
Indispensable etiquette
Christian Vith illustrates the importance of not imposing oneself on one's target group, despite all the digital proximity, and of maintaining a professional distance, using the example of direct communication. He recommends: "When making 'personal' contact, for example via Messenger, always make a reference to your target's publications or comments and don't clumsily assault them with advertising platitudes." Vith also warns of mixing private with business motifs. In his view social media users do expect direct dialogue but they want certain limits to be observed especially in the case of online sales activities.
No longer strictly a B2B topic
"Social Selling is getting more and more popular and increasingly making inroads into such consumer media as Facebook, Instagram and Tumblr," says Christian Vith observing developments and goes on to say: "So far Social Selling has predominantly been deployed in the B2B sphere, i.e. between companies and/or organisations, on such platforms as Xing, Twitter or Linkedin. Now, depending on the objective and target group, B2C platforms are also targeted." It is therefore all the more important, he feels, to coordinate all distribution activities and communication specifically for the target group and channel – in case of doubt, by enlisting a service provider as a consultant who can also advise on the selection of the suitable platforms. Those who want to act globally should not only consider the role of the usual social media for their communication strategy, but also those platforms in other countries the company may not yet be familiar with, such as Reddit in the USA or Odnoklassniki or VK in Russia.
Find and be found: the benefit of Social Selling
Cold-calling, sales calls, lead procurement – that's what the old sales model looked like. It was based on companies having to find new customers themselves. "This has markedly changed through the new media over the past ten years," says Christian Vith. "Through social media, companies no longer have to search for customers, but are found by their customers. This is a new starting point for marketers," says the OMA365 marketing expert, describing the key benefit of Social Selling with reference to the new opportunities for interaction and information in social media that salespeople can dock onto.
"In social media the various functionalities and algorithms allow companies to effectively optimise their image and popularity. What's more, they have the chance to listen to, analyse and understand their target group," illustrates Christian Vith and elaborates further: "Companies can build a solid foundation of trust and strengthen customer loyalty through 'better' access to their target group."
Numbers for doubters
To also allow doubters to grasp the importance of Social Selling, Christian Vith refers to figures published by emarketer.com in 2018. They show that some 78% of all Internet users polled are active on social media and that 71% of all distribution professionals surveyed deploy Social Selling; and that 75% of all B2B buyers and even 84% of all executives use their contacts and information from social media for purchasing processes.
Content is king. Distribution is queen.
Social Selling activities thrive on relevant content and this, in turn, feeds on good storytelling. With the help of high-quality content, messages can be conveyed in an attention-grabbing way – provided it is designed in a target-group specific way and SEO-optimised. "Despite all the importance of using content, you should not lose sight of content distribution," says Christian Vith sounding a warning: "The hippest content will go to waste if the reach is wrong. I recommend delivering content via various channels and different platforms. And by all means with an appealing accompanying text that stages the content in an attractive way for the target group."
The three do's for maximum Social Selling success
Shorter sales cycles, higher conversion rates: if sales and marketing "move closer" and cooperate more closely this sustainably impacts Social Selling success. Christian Vith specifically describes three criteria that maximise the potential of Social Selling: "Key is that a company's online presences all reflect the latest state of the art – both in terms of content and technology. Continuous updating concerns both the website and all social media pages of the company. Then it's worth looking into Google services such as search – keyword tech and content SEO, MyBusiness or Shopping. And last but not least, the production and publication of moving images. Whether via YouTube integration or upload: In videos, messages can be transported to the point and complex processes visualised, while emotions can be generated via visual language and soundtracks."
If need be, enlist support: identify and leverage touch points
According to Christian Vith, anyone who is not confident in developing a Social Selling strategy should definitely seek the advice of a specialised, external service provider. Agencies like OMA365 not only help with the selection of suitable platforms. They…
… assist in strategy development and the conception of a personalised, pragmatic approach on social media, which they then implement in the company's workflow,
… offer the production of relevant content for a consistent online communication and
… check and/or optimise existing online presences – to identify and manage touch points of relevance to their customers.