PF Concept offers support for Ukraine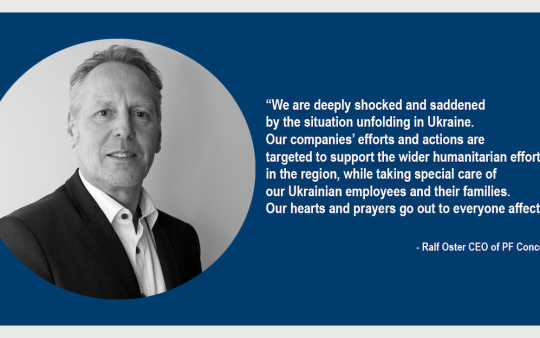 The renowned European promotional products supplier PF Concept is offering its support for Ukraine, which is currently suffering from the Russian war of aggression.
A press release from the company states: "At PF Concept we have been following the invasion of Ukraine with grave concern and find it heart-breaking to see people needing to leave their safe home and seek refuge in neighbouring countries. To support those in need, PF Concept has decided to donate up to 1% of our March sales to the Red Cross Poland and other charities, enabling them to provide the much-needed humanitarian aid.
As an international company with locations and customers throughout Europe, we are working to provide concrete support to our Ukrainian team members and their families in our Poznan facility and East European Sales offices.
Next to financial support, we will also donate products. Being specialized in premium gifts, we have a big assortment of products like jackets, bottles, bags and powerbanks, that seem useful for refugees. We are therefore closely working with our Polish warehouse, to collect and coordinate the donation of these products. We will provide an update on this initiative at a later stage."
"We are deeply shocked and saddened by the situation unfolding in Ukraine, which has a tragic impact especially on Ukraine citizens across the region", say Ralf Oster, CEO of PF Concept: "Our companies' efforts and actions are targeted to support the wider humanitarian effort in the region, while taking special care of our Ukrainian employees and their families. Our hearts and prayers go out to everyone affected." Ralf Oster continues: "In addition we are very appreciative of the support we receive from Polyconcept, parent company to both Polyconcept North America (PCNA) and PF Concept. PCNA has joined us in donating up to 1% of their March turnover to support the relief efforts in our region. We are proud to be part of this group. We hope that further escalation can be prevented and that the war comes to an end soon."