"STABILA Charity" collects donations for children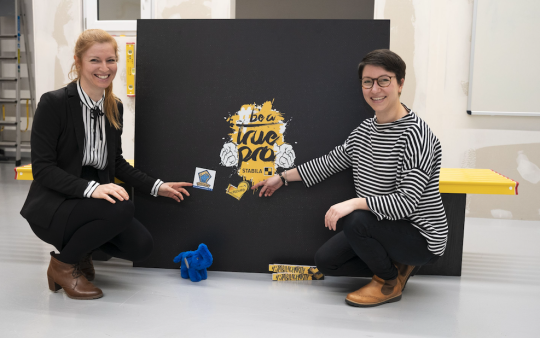 Following their first campaign in 2019, trade businesses in over 80 countries are invited to send in stickers for a good cause. 5 euros per sticker benefit children, youth and family welfare in the Landau children's home BLAUER ELEFANT in the south-west of Germany. The campaign is organised by STABILA Messgeräte Gustav Ullrich GmbH.
The first stickers to adorn the "Sticker Wall" for a good cause are STABILA Messgeräte's heart sticker embossed with the symbol of a ruler, and Landau-SÜW's BLUE ELEPHANT. Between April and October of this year, the Annweiler-based, internationally active company STABILA would like to fill the "Sticker Wall" for a second time with trade stickers from all over the world. In addition to its wide-reaching media project on Instagram and Facebook, the campaign is aimed at providing targeted support for children and young people who have experienced mental, sexual or physical violence, or who have undergone a conflict-ridden separation from their parents.
"Our Landau children's home BLAUER ELEFANT has been helping children, young people and families for 42 years," explains qualified teacher and Deputy Managing Director Anja Bischoff-Fichtner. In addition to the activities mentioned in the specialist areas of child protection service and youth and family counseling, the association also offers a wide range of courses from the birth of the child through puberty, to the role of grandparents in the family. In addition to grants for technical work, an annual donation budget of around 180,000 euros is required for the association's charitable work in the sustainable support of families in the city and district.
"The 'STABILA Charity' initiative would like to build on this need and give organizations that are committed to social issues such as the BLAUER ELEFANT children's home a helping hand," says Dr. Ulrich Dähne, Managing Director of STABILA Messgeräte Gustav Ullrich GmbH. The company has been promoting charitable projects for years. "Stickers for Children" – the forerunner of the current sticker campaign – took place for the first time from May to December 2019 in favour of the Kinderschutzbund. In 2020, "Rulers for Children" was developed together with the Sterntaler children's hospice from Dudenhofen, in which 5 euros per submitted ruler design went to children with terminal illnesses. In 2021, the company's commitment was given the campaign name "STABILA Charity." Under this umbrella, donations went to five international organizations with a focus on Esperanza e.V., which implements development projects in the highlands of Guatemala.
The current aid project in favour of the Kinderschutzbund runs from 1 April to 29 October. Trade-related stickers can be sent by post to the following address: STABILA Messgeräte Gustav Ullrich GmbH, Marketing/Social Media Team, Landauer Str. 45, 76855 Annweiler.
Once a month, gift packages are raffled off amongst all participants, with company products such as levels, electronic measuring tools, lasers, measuring tapes and rulers, as well as promotional items from the BLAUER ELEFANT children's home. Interested companies and private individuals can take part on Instagram @stabila_official or on Facebook @StabilaOfficial.
#stickersforchildren #beatruepro #stabila #nachwuchsförderung #ausbildung
+++
Picture: Placing the first stickers on the "Sticker Wall" for a good cause: (from left) Sina Ludwig from the Kinderschutzbund and Anna Steinbach from STABILA. Photo: STABILA