The cult brand celebrates its anniversary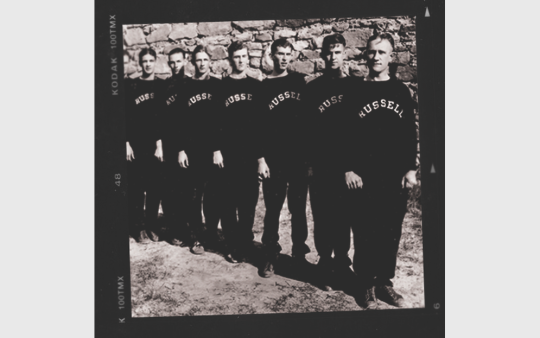 In March 1902, the 26-year-old Benjamin Russell founded the Russell Manufacturing Company in Alexander City, Alabama – marking the birth of the time-honoured brand for teamwear, Russell Athletic. With the campaign WE ARE THE ORIGINAL, Russell Europe celebrates 120 years of know-how in the field of high-quality, long-lasting and customisable textiles.
+++
The spotlight of the anniversary of the cult brand Russell (today under the aegis of FOL International GmbH) is on the sweatshirt, a classic must-have in the world of teamwear for sports, leisure and work. The creative mind responsible for this versatile item of clothing, which has become an absolute must in every "vibrant" wardrobe: Benjamin Russell Jr., son of the brand's creator and passionate football player.
The original sweatshirt: a sports jersey made of cotton
In 1926, Benjamin Russell Jr. had had enough. Back then, wool jerseys were still worn when playing football – an extremely scratchy and chafing experience. That's what led Russell Jr. to speak to his father about his bright idea: a more comfortable sports jersey made of cotton. Four years later the time had come and the first crew neck sweatshirt by Russell Athletic was able to go into production. A characteristic feature of the newly designed garment: the reinforced V-notch at the crew neck, which absorbed sweat and retained the shape of the collar. That's also why it's called "sweatshirt".
The sweatshirt today: a versatile classic
Of course, the sweatshirt is still known and loved today for its originally intended use: as comfortable sportswear. But the item of clothing with cult status is also valued off the playing field – as a warming outer garment on colder days, a timeless component of fashionable layering outfits or a classic must-have when it comes to teamwear. Surely, no other item of clothing is better known for conveying a shared sense of belonging – whether it's during sports, at school, in leisure time or at work.
Pioneering spirit since 1902
Russell Europe is also celebrating the long-standing brand history in the European market. With the campaign WE ARE THE ORIGINAL and using the example of the sweatshirt, the brand highlights its pioneering spirit, its innovative strength and the many years of experience in the manufacturing and printing of high-quality, long-lasting and versatile textiles. More at: www.russelleurope.com/rsl-about-us
+++
Photo: A football team from the 1920s with the first crew neck sweatshirts by Russell Athletic.