PSI returns to annual cycle with January 2023 show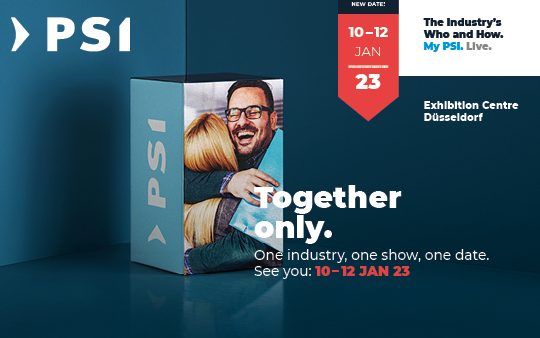 Following close consultations with exhibitors and partners we have decided that the next PSI trade show will now take place from 10 to 12 January 2023. That decision means the leading European trade show for the promotional products industry will return to its traditional slot at the start of the business year from 2023.
Some 90 nations are represented among the visitors of the PSI Show, the leading trade show of the promotional products industry in Düsseldorf, which in normal times would mean a guaranteed success but is naturally impacted by the pandemic. The high share of international visitors at the event – combined with the industry's generally restrained business attitude – have led organiser RX Austria & Germany to move the PSI Show back to its pole position in January 2023.
"In the current situation enabling a successful event for our exhibitors is especially important to us. And considering how important it is to secure the presence of a full lineup of national and international brands along with visitors from around the world we are unable to do that at this time. The PSI trade show is one of the most important industry trade shows worldwide, and we will once again live up to that standard in 2023", said Petra Lassahn, the director of PSI.
PSI: The trade show for international contacts
Coordinating the decision with the involved partners and associations helped to reconfirm organiser RX Austria & Germany's call to move PSI to January 2023 – returning Europe's leading promotional products trade show to the pole position it has always occupied on the industry's event calendar. "Our main concern is to support the players in the promotional products industry, using any means at our disposal, as they set out to generate business again, strengthen their networks and stay in touch with each other – nationally as well as internationally", explained Petra Lassahn. "That's why we now need to devote all our strength and energy to kicking off the preparations for PSI taking place in its regular-rotation slot in January 2023."
For up-to-date information and FAQs for PSI exhibitors and visitors go to: