Advertising on the tip of the tongue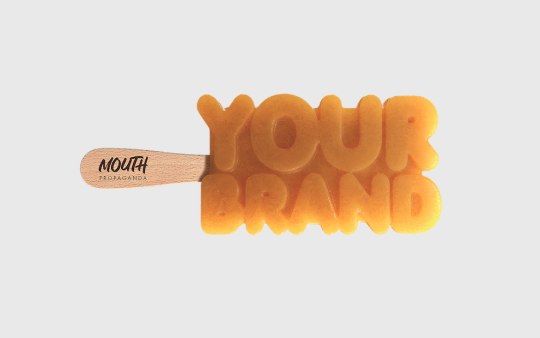 Since 2020, the young company by the name of MOUTH Propaganda has been creating advertising messages that leave a lasting impression. The two founders combine their passion in the areas of patisserie (Massimo Futschik, pastry chef and ice cream maker) and design (Antonia Westerwinter, communication designer) to deliver an unforgettable experience for the tastebuds that's also striking for the eye – because: food should be a feast for the eyes, too.
The talk is of a customised popsicle which can be fully tailored to suit the customer's preferences in terms of colour, shape, taste and packaging. "Every ice cream is carefully handcrafted and manufactured by us exclusively from natural ingredients", says managing director Massimo Futschik. Starting at minimum orders of just 300 pieces, the Cologne-based business produces popsicles for events, festivals, company celebrations and much more. One of the first high-profile customers was a well-known aperitif brand, for which a matching popsicle was designed and produced. It's also possible to book the equipment and on-site brand ambassadors through the company.
In addition to the 3D popsicles, the company also offers its customers ice cream in a cup in premium quality as sorbet and dairy-based ice cream. Whether it's for restauranteurs as a clean label product in their own restaurant or for companies who want to give their employees a refreshment on a hot office day, this ice cream leaves a lasting impression.
Previous customer projects can be viewed at www.MOUTHpropaganda.com and @MOUTHpropaganda on Instagram, whetting the appetite for a hot summer with a uniquely personalised popsicle.