Talk, Talk, Talkinar ...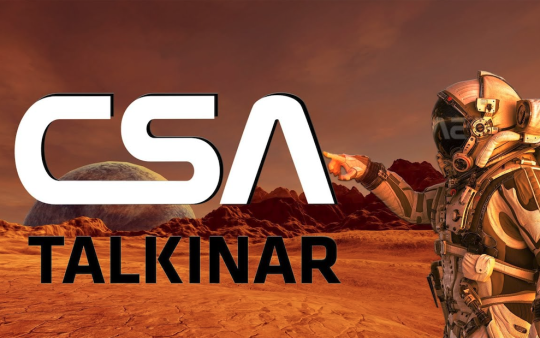 The CSA Academy of cyber-Wear Heidelberg GmbH and Cybergroup International GmbH starts with a new thrust: from 20 July 2022, the CSA Academy invites you monthly to its new digital format – the Talkinar series with highly interesting guests and topics. "Guests are experts from across our universe that you definitely wouldn't expect! Hold on to your seats, we're talking about rousing topics that will be extremely informative for all," reads an announcement from the CSA.
Professional added value
The CSA Academy has already uploaded professional added value in the form of our CSA Talks with more than 30 videos. Here, more than 30 supplier partners talked about the latest products and current topics that move the advertising world. The Cybergroup Space Academy describes itself as a cross-industry training programme for marketing professionals in a wide range of disciplines. Due to the professional standard, a new format was also developed this time in the course of the postponement of PSI, which will definitely shorten the waiting time until the PSI trade fair from 10 to 12 January 2023.
Selected experts
Once a month, Cybergroup CEO Steven Baumgärtner will meet with selected experts who will share concentrated knowledge and even insider news. The format offers the opportunity to gain insights into completely different areas in an informal atmosphere and personal exchange, which are fascinating even if you are not interested in advertising media! The discussion partners are a varied mix from the most diverse fields.
The premiere on 20 July marks the start of the CSA's latest mission. From then on, always on the third Wednesday of the month at 1:11 PM.
These are the dates + discussion partners + topics:
• 20 July – André Berger, CEO andré berger gmbh – united fashion service – Topic: "Trend end or trend change".
• 24 August – Boris Kompara & Steffen Gros, mental coaches and airline pilots – Topic: "Error cultures and structured work in extreme situations".
• 21 September – Olaf Hartmann, CEO Touchmore GmbH & Managing Director of the Multisense Institute – Topic: "Using the power of the senses sensibly".
• 19 October – Philip Pflieger, Germany's fastest marathon runner & poadcaster – Topic: "Running at the limit".
• 23 November – Kelvin van der Linde, professional racing driver – Topic: "Full throttle through the Green Hell".
• 14 December – Nils Buntrock, Head of Marketing Harley Davidson DACH – Topic: "From cool to cult – brands in the change of time".
• Clemens Arnold – Partner of 2bdifferent – Topic: "Sustainability in the event industry".
+++
The talkinars will be streamed here:
https://www.csa-academy.net/mediathek