Lively interest on My1stabila Day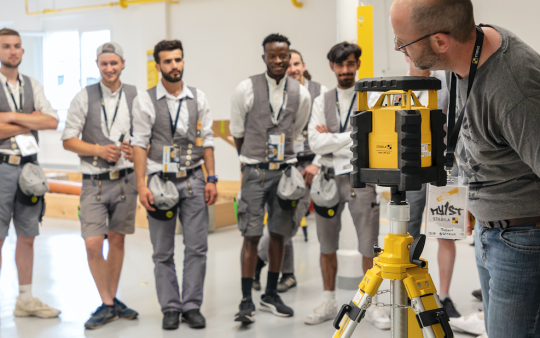 Over 100 apprentices and instructors were invited to the production halls of Stabila Messgeräte Gustav Ullrich GmbH in Annweiler on 24 June 2022, where they took part in the My1stabila Day that Stabila organised for the recent intake of apprentices for the skilled trades.
+++
Renowned throughout the world as a manufacturer of superior-quality, brand-name measuring tools and also as a supplier of promotional merchandise, Stabila Messgeräte Gustav Ullrich GmbH has been committed to supporting recruitment and training in the skilled trades for many years. In view of the increasing shortage of apprentices in Germany – around 60 per cent of apprenticeships in the construction industry were left vacant in the current year – Stabila wants to counteract this trend and has this year launched the My1stabila campaign. The goal is to show young people who are undertaking an apprenticeship in the skilled trades, to support them and to encourage other young people to choose this career path that offers many different opportunities. Last year, Stabila had already visited several vocational training centres in Germany. When they visited the training centres in Saarbrücken, Bühl, Limburg, Pforzheim and Karlsruhe this year, people expressed a wish to visit the Stabila factory. That is how the idea came about to hold a My1stabila Day as part of the campaign.
The first My1stabila Day came to a close with discussions and a Q&A session in the Campus. This is where visitors heard from WorldSkills participant Jule Jason, Stephanie Werth from WorldSkills Germany and Ilona Klein from the German Construction Industry Federation (ZDB). They shared fascinating details about taking part in one of the challenge contests, such as the WorldSkills or Euroskills competitions, that are held alternately every two years. www.stabila.com