Registration phase has started: Clear commitment to face-to-face PSI 2023.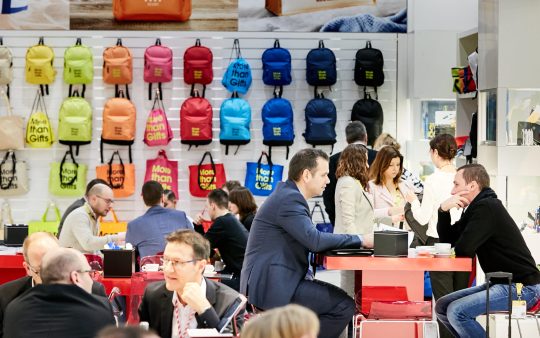 In 2023 the European promotional products industry will meet again at PSI in Düsseldorf from 10 to 12 January. With immediate effect exhibitors can register online at www.psi-messe.com.
The industry is looking forward to a reunion in person on its traditional "PSI dates" in January. This was the mood prevailing at the PSI Sustainability Awards presentation gala held on 21 June at Düsseldorf's Rheinterrassen, a mood also in line with the start of the registration period. The first 210 international exhibitors have already confirmed their participation for PSI 2023.

Full commitment to the trade show and network
The organiser RX Austria & Germany leaves no doubt about the fact that Europe's most relevant promotional products trade show will be held in a face-to-face format from 10 to 12 January. Right at the beginning of the PSI Sustainability Award gala Benedikt Binder-Krieglstein, CEO RX, and PSI Director Petra Lassahn made a very clear commitment to holding PSI 2023. "The promotional products industry needs the PSI as a hub in Europe just now," says Benedikt Binder-Krieglstein, adding: "We will do our utmost to live up to the special responsibility of this trade show as Europe's biggest sectoral network."
In this context Petra Lassahn stresses once again that PSI will not invite any industrial customers itself in agreement with the sector. Industrial customers will only obtain access to the trade show if they are invited by PSI distributor members. Furthermore, the number of invitations for industrial customers is limited to ten per promotional products distributors and these invitations will only be valid for the third trade show day.

Halls 9 and 10: full occupation planned
Hall layout for the coming PSI is oriented towards clearly structured focal themes "Sustainability", "Expertise", "Sourcing" and "Innovations". "To ensure planning reliability and in the interest of our exhibitors we are pursuing compact space allocation in Halls 9 and 10, which will also benefit our visitors," explains Petra Lassahn. "Our visitors can look forward to a clear line-up of thematically segmented ranges."

Line-up of side events is taking shape
2023 will see forums integrated into the trade show build a thematic 'bridge' to the product innovations in the PSI Newcomer Area for inventors, first and secondary exhibitors as well as start-ups. The following themes trending in the promotional products industry will determine the look & feel of PSI:
Sustainability: the potential of sustainability considerations will be illuminated at PSI in a hands-on and segment-specific way. Experts at the Textile Campus will therefore provide valuable input for sustainable textile production, fair and ecological supply chains, eco-design, circular economy, recycling and upcycling, quality seals, standards and certifications. In parallel all nominees of the PSI Sustainability Awards 2023 will demonstrate how companies can make their processes, products and corporate culture more sustainable.
Expertise: The PSI Forum picks up on current practical solutions in the promotional products industry. Highlights here include the implementation of automated and digitalised workflows, the hybridisation of distribution processes and content management across all media channels. Already enlisted as speakers are Alexander Stork, Head of the Energy, Sustainability, Mobility and Logistics Department at "Bundesverband mittelständische Wirtschaft e.V." (German SME Association), Marko Hanecke of PRINTELLIGENT and Hendrik Habermann and Guido Badjura of DATEV. Other confirmed speakers include Michael Bromberger, Managing Director of GERNET Printpack GmbH, and kmu-digital founder Dennis Arntjen.
Sourcing: In addition to the PSI Product Presentations the special show on personalisation "Sonderschau Veredelung" with Stahls' Europe invites visitors to explore products. Specialists will make the knowledge-intensive sectors of product and textile finishing literally graspable. At this new Special Finishing Show amongst others Roland DG and Stahls' Europe will invite trade show visitors to personalise a variety of products from mugs to USB sticks themselves.