PSI 2023: Renowned exhibitors, big brands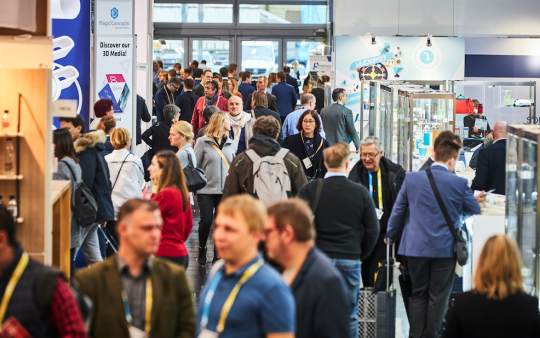 The time has finally come again: PSI, Europe's most important promotional products trade fair, will open its doors again in 2023 on the traditional January date. From 10 to 12 January 2023, the international promotional products industry will come together in the compactly planned Halls 9 and 10 of the Düsseldorf Exhibition Centre. Here, everything revolves around inspiration, networking and knowledge transfer: renowned exhibitors and creative newcomers present promotional highlights and classics, here you can meet business partners and friends and find out about trend topics from the areas of sustainability, finishing, design and textiles. An extensive supporting programme offers a broad spectrum of knowledge with many practice-oriented approaches.
Major exhibitors with big brands have already booked their stands:
The five sisters of the CHOICE family – Daiber, FARE, Halfar, mbw and SND – have been exhibiting together at PSI for years. In 2023, the partner companies will again present their common brand understanding not only visibly but also tangibly on their joint stand with five independent presentations. From caps to promotional textiles, umbrellas, bags, cuddly toys, squeaky ducks and porcelain, CHOICE will show a diverse spectrum of beautiful, effective and sustainable "hapticals".
elasto GmbH & Co. KG is a specialist when it comes to promotional items made of plastic. The versatile repertoire of the renowned manufacturer guarantees an all-round positive brand experience. The focus of elasto is on articles that inspire with their benefits – and also make an impression in terms of sustainability.
Kalfany Süße Werbung is a high-performance confectionery manufacturer that has been inspiring the promotional products industry for almost four decades with ever new ideas, well-known brands, quality from certified production and the best service.
In the B2B sector, Victorinox offers unmistakable Swiss precision in the areas of Swiss Army Knives, household and professional knives, watches and luggage, which will also be on display at PSI. In good Victorinox tradition – with know-how, quality, reliability and speed – every campaign is a hit.
Heri-rigoni, which became famous with its unique stamp pens and stamp products, now has an impressive range of writing instruments as well as "growing" promotional ideas with seed bags, plants and pots as well as creative Christmas give-aways and seasonal items. At PSI 2023, visitors can expect novelties and classics from the family-owned company with its own production, advice included.
burger swiss pen AG manufactures in the high-quality segment of scatter articles, which is reflected in the long life of the products. With their high writing comfort, large advertising space and a clear design line, the ballpoint pens of the Swiss writing utensil manufacturer retain their emotional value over a long period of time. Intensive research has produced innovative materials such as antibacterial plastics as well as sustainability concepts. A visit to PSI provides exciting insights into the world of plastics.
Reflects with its high-quality brands RETUMBLER®, REEVES®, RETIME® & RE98® has also been a recognised partner of the promotional products trade for over 30 years. From in-house design and sourcing in Asia to finishing in Cologne, Reflects has all the value-adding processes in house. The latest products and concepts can be seen at PSI.
Schneider Schreibgeräte, one of the world's leading manufacturers of ballpoint pens and writing instruments Made in Germany, will be present in Düsseldorf in January. Schneider combines the values of a traditional brand with those of a modern, sustainable company. Unusual, promotionally effective ideas and top products have enriched the portfolio of the promotional products trade for more than 60 years.
Reisenthel with its unmistakable, likeable range of bags, luggage and accessories in ingenious design is internationally established as a high-quality brand thanks to numerous product icons. Whether as corporate incentives or giveaways, branded reisenthel business, travel or shopping products open up new dimensions in B2B communication and customer loyalty. Inspiration at PSI 2023!
Mahlwerck Porzellan, the versatile "porcelain of brands", supports both small and large companies in brand building and cultivation. The innovative shapes with highly individual Mahlwerck finishes communicate uniqueness and prove time and again to be particularly efficient advertising media. You can see the latest creations at PSI.
Doppler, as a manufacturer of parasols and umbrellas as well as garden furniture and accessories, will be showing a wide range of high-quality products for diverse use in advertising campaigns at PSI 2023. The umbrellas known from the specialised trade with high functionality and quality are ideal brand ambassadors with high image transfer.
The dynamic family business Spranz with a design-oriented portfolio of over 800 articles is a producer and developer with its own finishing and large logistics centre. CI-compliant and target group-oriented, Spranz finds the right piece in the mosaic for every marketing concept. Intensive customer advice and support at every point of the sales chain round off the service.
From the very beginning, Easy Gifts has stood for the professional import of promotional items from the Far East and is present in many European countries. An international team guarantees the greatest possible customer proximity and extensive support in the respective national language.
Schwan-STABILO Promotion Products GmbH & Co. KG is part of the Schwan-STABILO group of companies and a partner to the national and international promotional products industry. STABILO Promotion Products offers writing instruments for target group-specific advertising in STABILO brand quality. Managing Director Harry Saffer is looking forward to presenting STABILO's highlights to existing and new customers at PSI 2023.
The long-established Stricker company creates, produces, imports and distributes promotional products worldwide. Founded in 1944 by Paul Stricker, the company now employs around 1,000 people and has its headquarters in Coimbra, Portugal, and is represented by its own branches on three continents – and also at PSI 2023.
Click here for registration and exhibitor list: www.psi-messe.com/en-gb.html