New transfer printing machine in use at mbw®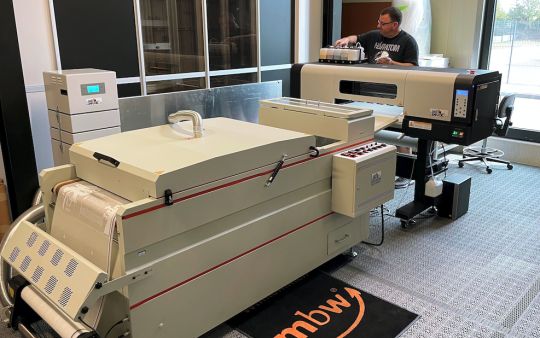 Recently, mbw® customers have been benefiting from a new printing process for textile accessories, cuddly toys, key rings and co. On its new transfer printing machine, mbw® produces high-quality transfer prints in – as the Wanderup-based company puts it – "breathtaking quality and at top conditions that reach a whole new level".
Each design in CMYK plus white achieves brilliant results, even on dark textiles, thanks to the "DTplus" process. Whether finest details or large-scale motifs, single-colour logos or halftone printing and gradients, almost any type of textile can be finished using this process. The transfers are particularly durable, stretchable, almost tear-proof, and can even be washed at up to 60 degrees. This is an innovative alternative to previous printing processes, especially for sportswear finishing. Using a hot press for the direct application of transfer prints to the carrier material also eliminates the need for time-consuming weeding, as for example with flex films.
A big advantage for the customer here is that the set-up costs for multicolour motifs printed using the DTplus process are significantly lower than for classic printing methods, as these are only incurred once and not per print colour. The minimum quantities for multi-colour motifs remain low. Print proofs are uncomplicated. "More than 150,000 transfers have now run through the mbw® transfer printing machine and have delighted customers from various industries," says Managing Director Jan Breuer. To ensure that the quality of the transfers remains at the usual high level, the mbw® team has been expanded to include Mark Beckmann, industrial master craftsman for digital and print media. www.mbw.sh