L-SHOP-TEAM: Occupancy taken of new HQ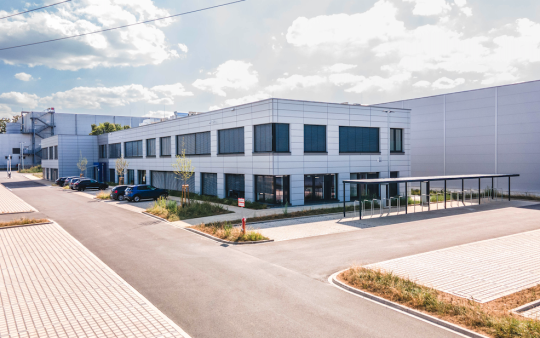 With effect from 1 September, following a construction period of just under a year, L-SHOP- TEAM took occupancy of its new offices in MLP Logistics Park Unna. The move into the 52,000 m2 logistics halls will take place from January 2023. A new step is taken in the corporate history of L-SHOP-TEAM: After more than 40 years, the formerly Dortmund-based company has relocated its headquarters to Unna. During a formal ceremony at the MLP Logistics Park in Unna in late May 2022, the MLP Group handed over the completed premises to new tenant L-SHOP-TEAM. The approximately 100 administrative employees moved into their new offices in September. With the new location, the course is set for continued international growth.
The two-storey office building extends across more than 3,000 square metres. Extensive floor spans enable flexible room division and modern work environments. Break areas for the company's future workforce of around 400 are provided by a terrace and verdant outdoor spaces. In addition, the grounds will comprise more than 200 parking spots – some with charging points – and a bicycle station.
"Our thanks go to everyone involved for the smooth partnership: MLP Group, construction company Goldbeck and the City of Anna, and others, and we are delighted to have been able to move into this new development on schedule. We can face the challenging future confidently and optimistically in Unna," reports Stefan Schenk, Managing Director, L-SHOP-TEAM.
Gradual occupancy will be taken of the neighbouring logistics halls from January 2023. Until mid-2023, L-SHOP-TEAM retains its logistics halls at Weißenburger Str. 69-71, 44145 Dortmund.