Sector banks on Europe's leading trade show: Good booking numbers for PSI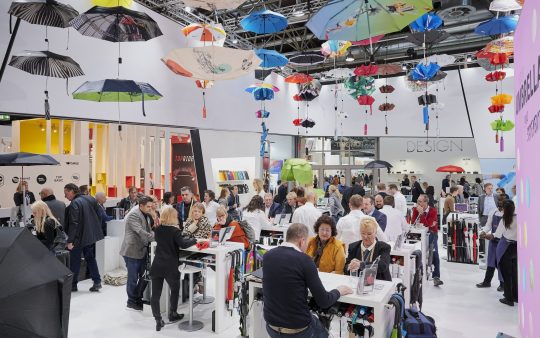 +++ Ticketshop open +++ Exhibitor database online +++
The promotional product industry backs PSI as a network and as the organiser of Europe's leading trade show for this industry. This is reflected by the current booking numbers for PSI 2023: over 60% of hall space has already been booked up, another 25% is reserved. In late September planned occupancy for the international industry event held from 10 to 12 January 2023 in Halls 9 and 10 of Messe Düsseldorf, stands at 85%.
About three months to the event, it is plain to see: the international industry players have chosen PSI 2023 for their comeback on the European exhibition stage. Anticipation is also rising on the visitors' part. "The sector's backing means a lot to us," rejoices PSI Director Petra Lassahn, and adds: "Even before our Ticketshop opened we received many inquiries from visitors from Germany and abroad. Tickets have been available from mid-September now and we are very pleased with the high quality and internationalism of the already accredited trade visitors from Brazil, Denmark, Germany, Israel, Pakistan, Slovakia and Switzerland."
Current booking levels: fully up to speed
There is good momentum on the exhibitors' part. To the tune of 400 exhibitors are expected in Düsseldorf from 10 to 12 January. Over 60% of hall space has already been booked as of late September, an additional 25% is reserved. This approval shows that PSI will underscore its ranking as Europe's leading trade show for the promotional product industry after three years. "To us PSI is the flagship event in our industry in Europe," explains Volker Griesel, Managing Director at Fare. Like Fare, such companies as Halfar, Daiber, mbw and SND Porcellaine of the JCK Group, burgerpen, Victorinox, Reflects, elasto, Heri Rigoni, Neutral, Blooms out of the Box and Paul Stricker, and many more, have decided in favour of PSI participation.
There are plenty of arguments for this according to Volker Griesel: "At PSI policy-makers can see that our industry provides significant economic value added and deals responsibly with the topic of sustainability." At PSI 2023, Fare will show that it is consistently pursuing the path it began more than ten years ago with the introduction of the ÖkoBrella family: with a sustainability strategy that includes, among other things, the company's climate neutrality as well as climate-neutral umbrellas. Volker Griesel: "We are particularly proud that our commitment to this topic of the future is regularly honored at the PSI Sustainability Awards, most recently in 2021 with the award for 'Innovator of the Year' as well as in 2022 for the 'Sustainable Campaign of the year'."
Added trade show value: side events
About three months to the start of the trade show the conceptual ideas for the various Special Areas such as Community Café, GUSTO, Textile Campus, Textile Village, the travelling exhibition 'ökoRAUSCH Wissenswelt' as well as the new Special Show 'Personalisation' are in the middle of operational planning. After the 3-year break there are numerous new products and exciting concepts on the market waiting to be presented on an international stage at last," explains Petra Lassahn and adds: "As the organiser of PSI and especially as Europe's biggest industry network we are expanding our expert programme further."
In focus will be the mega trends sustainability and digitalisation including their impact on processes, products and business models as well as dealing with strategic market changes, such as disrupted supply chains, energy supply, raw material scarcity, shortage of skilled labour, inflation, New Work and diversification.
For current information and FAQs for PSI exhibitors and visitors go to:
Photo (c) PSI