Great Britain and North America: The PSI membership as a start into the world market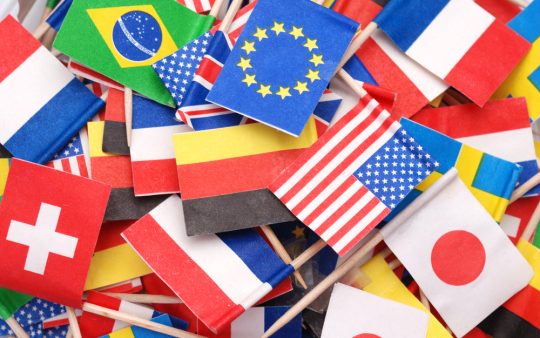 A good idea has no boundaries: The promotional products industry is an industry that thrives on trade and exchange across countries and continents. As an international network, PSI supports its members in establishing new markets and strong contacts – by cooperating closely with associations all over the world.
PSI is part of the PromoAlliance, an international alliance of industry associations from North America, the United Kingdom and Germany. Each member association networks, informs and supports not only its own members but also those of the partner associations.
Lead generation, sourcing, online platforms, events, seminars: Sourcing City provides a full range of strong industry services to its members in the UK promotional products industry. But also PSI members who want to establish and expand their market presence in the UK in a targeted way benefit from numerous advantages thanks to the PromoAlliance, such as a more cost-effective membership, detailed UK market data, access and publications in the Sourcing City Industry News, exhibition opportunities at live events and much more.
Last but not least, PSI members also have access to exclusive Merchandise World events that are normally reserved for Sourcing City members only. In 2023, for example, in addition to the New Year Event on January 25-26 in Coventry, the Peak Season Event will also take place on September 13 in Milton Keynes.
ASI – Advertising Specialty Institute (USA)
PSI members also receive a number of benefits in the profitable markets of the USA and Canada, as the ASI is also part of the PromoAlliance.
The Philadelphia-based industry association hosts live events, networks over 27,000 suppliers, dealers and customers in North America and provides its members with powerful tools, up-to-date market data, resources and support services. Again, PSI members benefit from discounted lead generation and education rates, as well as exclusive access and exhibit opportunities at ASI events.
Of course, the PromoAlliance will also be present at PSI 2023 on all days of the trade show – in the International Lounge, Hall 10, Booth G20. Michele Bell (ASI) as well as Jason Grenham (Sourcing City) are personally available on site in Düsseldorf as contact persons for all questions regarding benefits and memberships in the PSI partner associations. Would you like to build and expand your international network with experienced business partners for the North American and British markets? Then stop by the PromoAlliance Reception at PSI: This international get-together will take place on Tuesday, January 10, 2023 at 4:00 p.m. in the Community Café in Hall 9, Booth E80/E82.