Senator garners Green Good Design Award 2022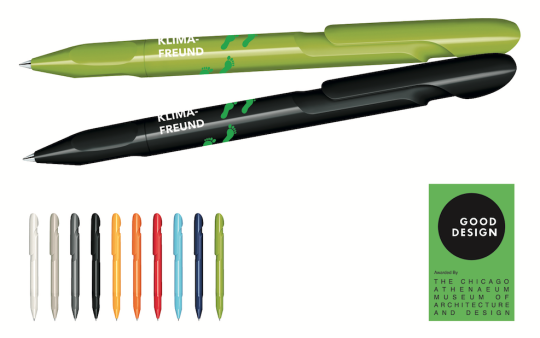 The Evoxx Polished Recycled ballpoint pen from senator® has been presented with the international Green Good Design Award for 2022. The prize was awarded by the European Centre for Architecture Art Design and Urban Studies and the Chicago Athenaeum: Museum of Architecture and Design.
Good Design was established in 1950 and has honoured international good design every year since. It is the oldest design prize in the world. Since 2009, architects, industrial companies, outstanding individuals, organisations and institutions have been recognised internationally under the Green Good Design label for especially eco-friendly, sustainable projects and technologies. In 2022, designs from over 30 countries have won the Green Good Design award. It is not only excellent design that is recognised but prizes are also awarded for ideas that emphasise greater sustainability in our world.
The Senator Evoxx is a carbon-neutral product, whose visible parts are made of reused material. Senator uses a recycled ABS compound that consists of over 95% recycled material. This means that industrial production residue and waste, returns and everyday items are reused. And this is not all: Evoxx aims to achieve good durability in many respects. It is not just the product itself that is made in-house in Germany but the refill is also manufactured internally in the company and has a writing distance of up to 5000 metres. Once this is empty, Senator offers free replacements online via the minen.senator.com portal. It prolongs the life of the Evoxx ballpoint pen and helps protect the environment too. Alongside many other international submissions, this comprehensive concept for Senator Evoxx is what won over the jury.
Senator will be presenting this and many other innovative writing instruments at stand 10B14 at the PSI 2023.