PSI back at last: supporting programme for 2023 released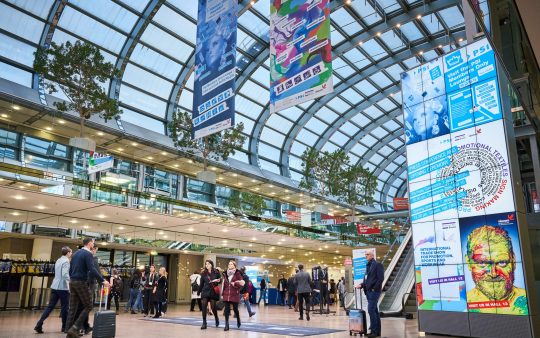 Practical and practicable know-how adapted to market conditions creates the basis for entrepreneurial success in the promotional product sector. This is the case now more than ever and – needless to say – also beyond the borders of the DACH region. Therefore, the leading European trade show PSI extends an invitation to its comeback in 2023 from 10 to 12 January in Düsseldorf with an extensive line-up of supporting events. Broken down into the focal themes "Sustainability", "Added Value" and "Practical Knowledge" experts will introduce the international trade visitors to strategies for meeting the new developments and current challenges in a targeted manner.
Finally that time will have come round again: after a two-year break PSI will open its doors for three days at Düsseldorf Exhibition Centre on 10 January 2023. Just how much people are looking forward to seeing each other again is reflected in current visitor registrations for the first F-2-F PSI since 2020. "We are delighted at this vote of confidence from Germany and abroad," reports PSI Director Petra Lassahn and goes on to explain: "Demand has picked up noticeably and especially the quality or visitors registered so far has boosted our motivation."
Programme of side events places exchange in focus
Right at the beginning of the new fiscal year Europe's leading trade show for the promotional product industry will offer its international expert audience a host of trends and inspirations related to tactile advertising. Above all, however, it will celebrate that personal exchange of knowledge and experience – with just under 400 exhibitors, over 30 guest speakers at the PSI Forum plus high-calibre representatives from the international industry associations aimfap, ASI, BAPP, BPMA, FYVAR, IFEMA, IPPAG, PIAP, PPP, SBPR and Sourcing City in the International Lounge.
Practitioners' knowledge: leading to success step by step
At the PSI Forum in Hall 10 renowned experts will provide important impulses. Under the overarching heading "Practitioners' Knowledge" "Step by Step Digital" lectures will be held amongst others. Here Dennis Arntjen from KMU Digital will demonstrate in his keynote "Hybrid Distribution in Times of Digital Change" how digitalisation can be leveraged for your own distribution success, while Michael Bromberger from GERNET Printpack GmbH in his talk "Digitalisation as a Business Guarantee. This is how Business works in Times of Industry 4.0" will describe how standardised workflows contribute to ensuring secure job handling, reliable production processes and binding delivery times.
Other exciting talks will be "From Screen to Gift. How Modern Activation with Promotional Products works in Online Customer Communication via Websites" by Peter Beichel, ipm Werbemittel GmbH, or the online-marketing presentation "Sales Driver Website in 2023". Here Thorsten Bastian from web and marketing agency next2brain will explain what web shops need to offer and how to convert website visitors into shoppers.
Knowledge sharing: from the sector for the sector
An important pillar of the PSI line-up of side events is the themed block "Added Value". Here experts will flag up interesting opportunities – on hot topics such as packaging and sustainability. A highlight will be the keynote by Alexander Stork. The Deputy Chief Economist responsible for Energy, Sustainability, Mobility and Logistics at the BVMW, der Mittelstand (German Association for Small and Medium-sized Businesses), will address the question "Sustainability: Boring Sideline Topic or Business Booster? How Companies profit from the Megatrend and secure Competitive Edge".
"The Road for Print, Material and Finishing and what Sustainable Packaging Production is all about" will be explained by Saskia-Melina Jacobs from Langebartels & Jürgens Druckereigesellschaft mbH. "How Custom Series offer Added Value for Customers" will be shared by Hendrik Habermann from the agency habermann hoch zwei, in his talk presenting best practice for this profitable segment of the promotional product industry.
Work and promotion wear: a plea for sustainability
Motivating the textile industry to offer more sustainable promotion and workwear – is what the Themed Day Textile on 11 January will be all about. At 12.30 pm the international expert for Sustainability, Sustainable Textile & Fashion, Bianca Seidel, will present a plea for the transformation of the industry and look to the future with optimism. This will be followed by the panel discussion by "Akademie für Textilveredelung" (Textile Finishing Academy). Here Aiko Wichmann from the City of Dortmund will discuss the state of play in sustainability specifications for public procurement with consultant Maike Ewuntomah and Stefan Roller-Aßfalg from Aka Merch und Textil GmbH. A key question here will be: "Do Ecological Criteria like Seals change Textile Tenders and Awarding Contracts?"
Role models showing what is possible
However, the potential of sustainability will also be scrutinised at the Textile Campus in Hall 10 – hands-on and relating specifically to each segment. Here experts will provide valuable input on sustainable textile production, fair and ecological supply chains, eco-design, circular economy, recycling and upcycling, seals, standards and certifications. Available on site will be consultants, universities, initiatives, companies and upcyclers including the Ecosign Academy for Design, the Circular Sweater Project, Pure Waste, Planet Upcycling, HTW Berlin and Niederrhein University, to name but a few. Another highlight in terms of sustainability will be the travelling exhibition ökoRAUSCH Wissenswelt in Hall 10.
Do it yourself: applying knowledge in practice
In addition to the pooled theory trade visitors can acquire practical experience with current labelling and finishing technologies in the Special Show Finishing and Personalisation. In Hall 10 specialists like Roland DG and Stahls' Europe will invite visitors to personalise various products ranging from pencil to t-shirt themselves.
Networking globally in the PSI International Lounge
The promotional product industry is a sector that thrives on trading and exchanging across countries and continents. As an international network PSI supports its members in developing new markets and establishing good contacts – not least through close cooperation with industry associations from all over the world which PSI brings to the trade show in 2023.
It is not only GWW, the Confederation of the Promotional Product Industry headquartered in Germany, that is represented with its own stand at PSI – as high-ranking representatives of aimfap, ASI, BAPP, BPMA, FYVAR, IFEMA, IPPAG, PIAP, PPP, SBPR and Sourcing City will also be at attendees' disposal for personal exchange in the International Lounge in Hall 10. These include Michele Bell (USA), Michel Debout (BEL), Tom Robey (GBR), Gabriel Moese (ESP), Jason Grenham (GBR), Lars Dahlström (SWE), Marijke van Hoorne and Joop van Heelen (both NED).
For the complete line-up of PSI side events go to:
https://www.psi-messe.com/en-gb/fuer-besucher/programme.html#/sessions
For the list of PSI exhibitors go to:
https://www.psi-messe.com/en-gb/fuer-besucher/exhibitorlist.html#/
For Tickets for trade visitors go to:
https://www.psi-messe.com/en-gb/tickets.html
NB: Industry customers only receive legitimation as trade visitors for PSI 2023 on presentation of an invitation by a PSI member distributor. Invitations for industrial customers are limited to ten per promotional product distributor and are valid exclusively for the third trade show day.