Stabila: Groundbreaking ceremony for new Logistics and Service Centre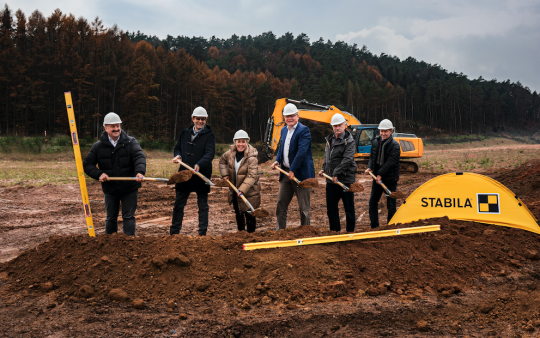 The groundbreaking ceremony for Stabila's second German site took place on 28 November in the new inter-municipal industrial estate Wilgartswiesen/Hauenstein, about 12 kilometres from the company's headquarters in Annweiler/Pfalz. Measuring instrument manufacturer Stabila is investing 15 million euros in land purchase, construction and technical equipment. By the beginning of 2024, in the first stage of development, a logistics and service centre of just under 8,000 square metres will be built on a total site area of 22,000 square metres.
"Due to our extremely strong growth over the past few years, the Annweiler location is at its limit," says Managing Director Dr Ulrich Dähne, explaining their high investment. "This second location gives us enough space and optimal conditions for further growth. We are consciously investing in Germany as a location, in Stabila's future, and in job security for our employees."
In the first step, Stabila is relocating the finished goods warehouse and the shipping department from Annweiler to Hauenstein. In a second expansion stage, parts of the production from Annweiler and from abroad can be relocated, and production capacity expanded. The new building will be 75 metres wide and almost 100 metres long, and built according to the latest energy efficiency standards. 100 per cent of the energy required for operation will be generated by a photovoltaic system, making the building climate neutral.
There will be 35 jobs at the Wilgartswiesen/Hauenstein site, 20 of which are new; 15 are moving from Annweiler. A daily shuttle transfer will bring goods from production in Annweiler to the new logistics centre. The work processes will be designed and automated according to the latest logistical standards in all areas – from goods receipt to the replenishment and picking warehouse to the packaging and staging area. In addition, all sets of spirit levels and construction lasers distributed by Stabila worldwide will be assembled and packed in the logistics centre. All workstations are ergonomically optimised.
The new logistics centre is already Stabila's second major investment in Germany within the past few years. It was only in 2020 that a new production warehouse for the manufacture of spirit levels was commissioned at the Annweiler site, in response to the increased demand for quality spirit levels "Made in Germany". www.stabila.com
+++
Photo: Groundbreaking ceremony The groundbreaking ceremony for a new Stabila Logistics and Service Centre in Wilgartswiesen/Hauenstein took place on 28 November 2022. Picture: Stabila