Know what's happening in the promotional products world. Episode 1: USA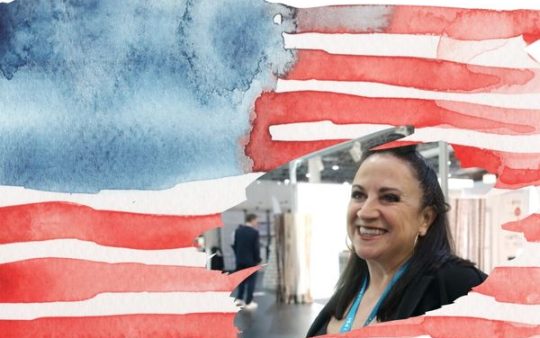 We spoke with Michele Bell, vice president of editorial, education and special events at The Advertising Specialty Institute (ASI), about market dynamics in North America, surprising trends and the importance of PSI to overseas companies.
PSI: The Advertising Specialty Institute® (ASI) is the world's largest membership organization for the promotional products industry, with its own live events in North America. How does it feel to be back in Germany for PSI?
Michele: "I couldn't be happier to finally be back! It's been three years and I really missed the European market with its participants. To see that the industry has recovered and is making its comeback with events like this: it's fantastic!"
PSI: In 2020, the U.S. faced a dramatic economic downturn in the face of the outbreak of the pandemic and increasing recession. What is the current situation?
Michele: "In fact, we just now have the North American promotional sales numbers for 2022 and they are exactly where they were in 2019, before Covid, which was a record year for the promo industry in the US and Canada: 25.8 billion dollars – up 11.4 per cent over 2021's sales figures, which is wonderful news."
PSI: Which markets are currently showing the most potential?
Michele: "Segments that are doing extremely well are education, healthcare, associations and non-profits."
PSI: Which product tops the rankings in the U.S.?
Michele: "One surprise is actually the 'drinkware' segment, which has grown tremendously over the last three years. Due to pandemic-related new everyday and drinking habits, the drinkware market grew by 17 percent and is currently the second largest product category in North America – after T-shirts."
PSI: What is the biggest difference between the European and North American promotional products industries?
Michele: "Well, I've been coming to PSI for about 20 years. And in all those years, I've observed that the European market has always been ahead of the U.S. in terms of sustainability, and still is. But: there is a change in thinking. Manufacturers are paying much more attention to ensuring that promotional products don't end up in the trash, if possible. Demand has changed: responsible production that is as sustainable as one can get, from materials to manufacturing to the degradability of the product, is becoming increasingly important.
Along with this, packaging is being understood differently. Consumers are paying much more attention to how the products they buy are packaged. There is an emphasis on packaging being sustainable AND looking nice. This is a fairly new development in our country – unlike in Europe, were I have always admired the fantastic solutions at PSI."