Anniversary ceremony at PSI: 30-, 40- and 50-year memberships honored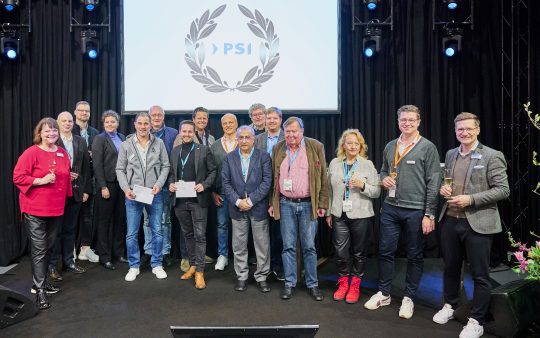 PSI, Europe's leading trade show for the promotional products industry, took place in Düsseldorf from January 10 to 12, 2023. The delight was great – not only because after an absence of three years without live PSI and at the start of the new business year, it was finally possible to meet in person again, but also because this year, after a three-year compulsory break, there were particularly many member jubilarians to honor.
During a two-hour event on the last day of the trade show, all PSI members who have been members of Europe's largest industry network for 30, 40 or 50 years in 2020, 2021 and 2022 were honored. Before the certificates were presented, PSI Director Petra Lassahn and Michael Köhler, Managing Director of PSI organizer RX Austria & Germany, gave an emotional welcome speech. In doing so, they emphasized how important the members' contribution to the promotional products industry and the PSI community is.
Many anecdotes about the anniversary
To express their pride and joy, some of the PSI members sent us a few words in advance. Daniel Dorchain, director of Louis Sales Promotions B.V, which celebrated its 50th anniversary in 2020, wrote: "We are proud and honored to be part of this leading industry institution for more than half a decade."
Heli Ahonen of Mastermark OY, who unfortunately could not attend the show to personally receive the certificate for 40 years of membership, let it be known, "Mastermark is a Finnish family business founded in 1978. We have participated in PSI every year since we joined in 1982. The PSI show has proven to be an important meeting place to meet friends and partners and find new suppliers."
The message from Christian Höfling of werbemax GmbH to potential and existing PSI members is: "We have benefited from our membership in the PSI network in many ways for over 30 years now. In our daily work, the PSI Product Finder is often a quick help. The team also has extensive knowledge to fall back on. The free visit to the leading trade show PSI is an annual must for us and at the same time motivates as a kick-off for the new business year."
Label Pub Sàrl can also look back on 30 years of PSI membership. For Camille Chassot, attending PSI has long been part of her life: "It's 30 years of membership shared by mother and daughter. 18 PSI years for Claudine, my mother, and 12 PSI years for me. Thirty years ago I was ten years old and I still remember how excited my brother Gregoire and I were when our mother came back from Düsseldorf and we discovered the many samples in the big black shell case. We would keep an eye out for novelties among all those gadgets. This year, I'm looking forward to finding out with my partner Julien what surprises await us in Düsseldorf in 2023."
More than a trade show
The PSI show more than a place to discover new products and trends. It is also a platform for the industry to network and learn from each other. These long-time members are a strong example of the importance of being involved and participating in the industry. They have demonstrated that PSI membership is not only important to the success of their company, but also to the development and progress of the promotional products industry as a whole.
Among the jubilarians:
2022: https://www.psi-messe.com/de-de/PSIMemberJubiliare/Jubilaeum2022.html
2021: https://www.psi-messe.com/de-de/PSIMemberJubiliare/Jubilaeum2021.html
2020: https://www.psi-messe.com/de-de/PSIMemberJubiliare/Jubilaeum2020.html