Partner for professional advertising displays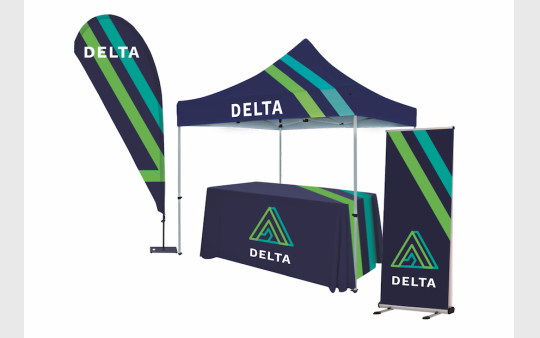 Showdown Displays Europe B.V. is a manufacturer of advertising signs, display systems and POS materials such as roll banners, beach flags, tents, counters and mobile exhibition walls. Based in the Netherlands with its own production facilities and printing centre, the company is a one-stop shop for advertising displays and provides custom-made solutions in this field. The event business is booming and exhibitions and events are being organised everywhere.
The demand for advertising displays is increasing and offers many opportunities for participants and organisers. "Showdown Displays has taken on the task of helping promotional products businesses expand their range of advertising displays and event products. As a manufacturing, printing and wholesale business with two warehouses across Europe, we have more to offer than just a good quality product", says Nicola Forani, Director of New Business Development at Showdown Displays Europe.
The company's offer includes comprehensive services. "We personalise displays as requested. We can change the size or colour of the corresponding print or even create a completely individual solution from scratch according to the customer's ideas. In doing so, we accompany customers with our advice from the initial idea to the different display product options and customisation opportunities and then onto the direct shipping to the end customer, either as a neutral shipment or with a branded delivery slip", says Nicola Forani.
Showdown Displays Europe itself is part of the globally operating Showdown Displays Group with headquarters in Minnesota, USA. The company has been globally active in the advertising media industry for many years. Additional information on its services and marketing support are available at: www.showdowndisplays.eu