Kalfany: Three new sets of team expertise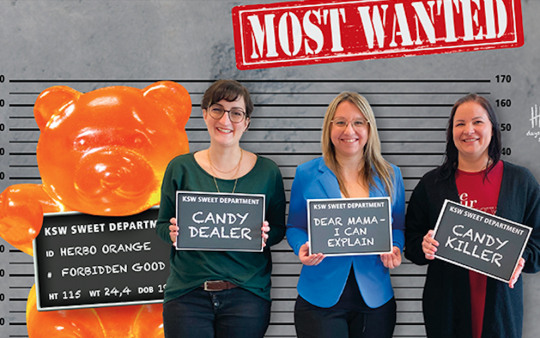 In recent months, Kalfany Süße Werbung has had the pleasure of welcoming not one, but three new Customer Service colleagues at its Herbolzheim site. Export receives immediate support from Tabea Bender and Alexandra Matthes in looking after customers, while Nicole Kühnle joins the Customer Service Team for the Southern Germany region. All three colleagues bring along experience in sales.
Tabea Bender provides support to English-speaking customers. She previously worked as a Junior Export Manager in the Food sector, as well as in customer service in the transport and logistics field, where she conducted international correspondence with partners and customers. Alexandra Matthes also supports the Export team, looking after customers in Austria and Switzerland. She is responsible for VAT auditing in addition. Previously, she spent many years in sales for the areas of logistics, customers and hazardous goods. Prior to her time at Süße Werbung, Nicole Kühnle was already active in customer services and as an assistant to the management in an advertising agency. She supports her two colleagues in preparing offers and processing requests for customers from the Southern Germany region. www.suesse-werbung.de
Photo: The "new girls" (from left): Tabea Bender, Nicole Kühnle, Alexandra Matthes.