<strong>BPMA appoints vice chair and co-opts new blood for the board</strong>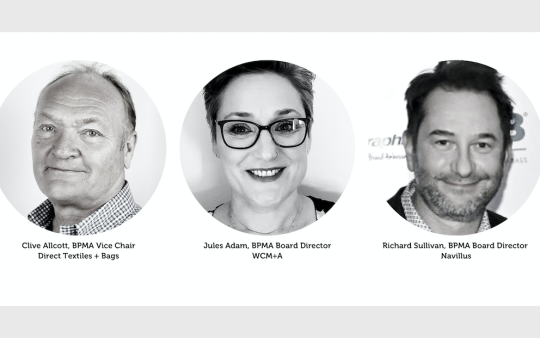 The BPMA has announced well respected Board Director, Clive Allcott of Direct Textiles + Bags Europe, has been appointed as Vice Chair to support Chair Haydn Willetts. In line with Board plans, the BPMA has also co-opted Jules Adam of WCM+A and Richard Sullivan of Navillus to join the Board with immediate effect.
Delighted with the appointments, Willetts said 'Clive has a great track record with the Board, already responsible for our Charter programme on the Board bringing about significant change for Charter members, his appointment as Vice Chair represents the next steps in development for the BPMA. We also welcome new blood in the form of two new talented business owners, Jules Adam and Richard Sullivan, co-opted to the Board to bring fresh skills and vision to our progressive plans.'
Announcing the moves at the BPMA's first International Women's Day on 8th March, the news was met with applause from assembled members. Supporting the event, Clive Allcott, Jules Adam and Richard Sullivan were congratulated by attendees. Jules Adam also took part in a series of panels also featuring fellow Board members BPMA President Angela Wagstaff, Board Directors Helen Brennan and Melissa Chevin during the event.
Jules Adam said 'I am delighted to be joining the BPMA Board at this exciting and incredibly important time for our industry. I thoroughly enjoyed my first Board meeting and was impressed with the level of dedication and the amazing plans the BPMA Board are putting together for the future.' Richard Sullivan added 'I'm honoured to be invited to join our dynamic BPMA board and very much looking forward to giving something back to the industry that has supported me for over 30 years'.
Making the moves now, CEO Carey Trevill explained the co-opting would be made official at the AGM this November. 'It's important to bring skills into a board at optimum times and with key planning for the next two years, this was the perfect timing to bring Jules and Richard on board with their wealth of experience, and with Clive taking up Vice Chair supporting Haydn, we're all set for progress.' The BPMA also recently added to the executive team with appointments earlier in February, welcoming Sarah Connor as Events & Training Manager and Sarah Irwin as Membership Executive, supporting Tom Robey as Membership Director. www.bpma.co.uk