HAPTICA® live '23: "Touchpoint to haptic advertising"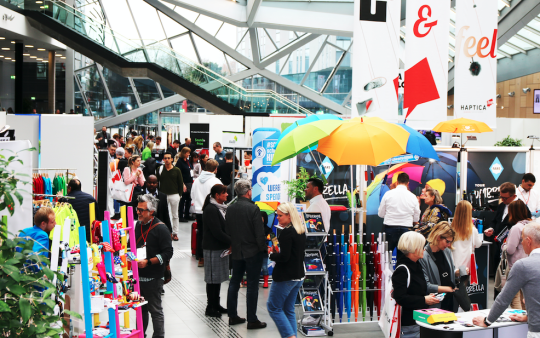 On 15 March, HAPTICA® live '23 took place at the World Conference Center in Bonn's Federal Quarter. Concentrated on one day, visitors could experience how haptic advertising touches and moves in the "World of Experience Haptic Advertising". The organiser WA Media was "very satisfied" with the response.
109 exhibitors presented innovations and highlights from their product ranges. The organiser WA Media counted 1,116 visitors (+ 29 % compared to the previous year). The extensive advertising measures included a mailing in the run-up to the event, inviting visitors to the "touchpoint for haptic advertising" with a red sticky dot. HAPTICA® live provides suppliers and visitors from the industry with contacts – in marketing jargon: touchpoints. And it wants to bring visitors from marketing and purchasing in general into contact with one of the most fascinating forms of advertising of all: haptic advertising.
Till Barth, Project Manager of HAPTICA® live, sums up: "We are very satisfied with the event and are pleased about the very positive feedback from our exhibitors and visitors. It is clear that the market has picked up again after three years of pandemic and that there is great interest in haptic advertising among decision-makers from the advertising industry. Important decision drivers here are value and sustainability, which was also clearly reflected in the exhibitors' product presentations." Compressed into one day, the marketing discipline of haptic advertising was illuminated from many points of view. The exhibitors represented the entire spectrum of the promotional products market, including many young companies with fresh ideas. There was also a varied accompanying programme. (We report in the April issue of the PSI Journal).
Photo: ©WA Media GmbH