Cotton Classics Roadshow 2023: New Visitor Record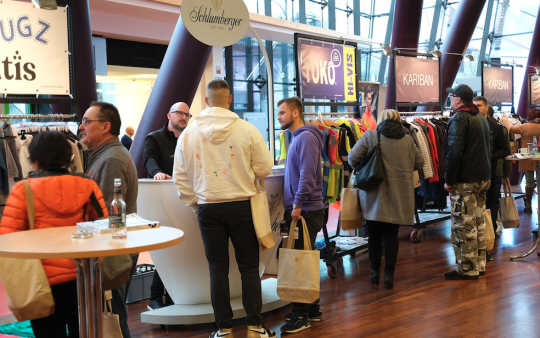 This year, the annual roadshow by textile wholesaler Cotton Classics went on tour from 16 January until 3 March, stopping at 16 locations in six countries along the way. As reported by the organiser, Cotton Classics Handels GmbH, more than 2,500 visitors picked up information about new textile products and bestsellers – which amounts to a new visitor record. Cotton Classics and the participating brands alike have expressed their extreme satisfaction.
This year's roadshow had kicked off at Schönbrunn Palace in Vienna – right on the doorstep of the Cotton Classics head office in Schwadorf. Following further locations in Graz, Ljubljana and Salzburg, the mobile trade show paid a visit to Munich. Six successful German locations ensued, before the road continued via Zurich and Prague to Bratislava.
"Experiencing inspiration and partnership live – even on our 14th roadshow, we achieved exactly that," summarises Wolfgang Horak, CEO and founder of Cotton Classics. Tobias Seidel, Head of Sales & Marketing at Cotton Classics, adds: "Partnership always takes priority – including among the exhibiting brands."
The Cotton Classics team travelled through Europe with experts from the textile brands for four weeks. "Having time for individual solutions and conversations is an important component of the roadshow's formula for success. An additional specificity of the roadshow is the collaborative attitude among all industry participants," says Seidel. The planning for 2024 is already under way. The Cotton Classics Roadshow is a series of events that takes place every year. It is exclusively addressed at specialist distributors from the fields of textile printing, embroidery, workwear, promotional products distribution, merchandising and online distribution. The 14th edition took place climate-neutrally for the first time – that is, the tour's CO2 footprint was measured and a certified climate protection project supported, in order to compensate for the rising emissions. More information: https://roadshow.info