How a 'Limited Edition' is created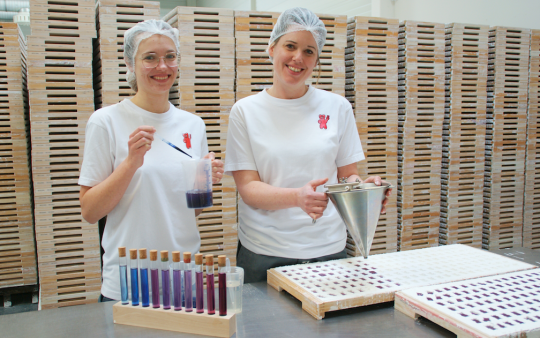 Kalfany Süße Werbung, the traditional specialist for promotional sweets, has been successful this year with all its own fruit gum and hard caramel products under the brand name "Bären Company". Behind this is a 'bear-strong' team of talented product developers who create new, innovative fruit gum varieties at the Herbolzheim site – from the selection of raw materials to the finished product. At PSI at the beginning of this year, the experts surprised visitors to the Kalfany stand with a visually and tastefully unusual premiere: the Limited Edition 2023 Lavender Lime – fruit gum bears in the trendy colour purple with a fruity-fresh lavender-lime flavour. The trial bags of the new variety were sold out in no time and the purple bears received consistently positive feedback. We looked over the shoulders of the ladies during the development of the 'Limited Edition' and will report on the "Making of Lavender Lime" in an upcoming issue of PSI Journal.
Photo: The Kalfany product developers Linda Schmelter and Dorothee Kühn spent a long time working on the right recipe.