Joytex launches the 4-day week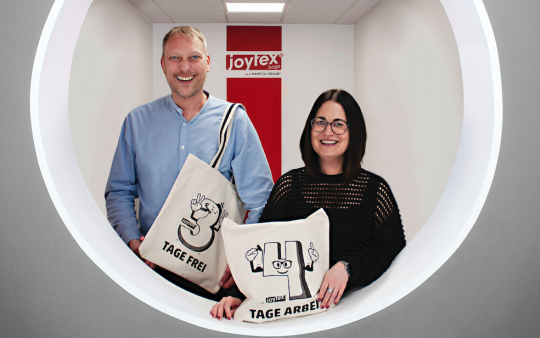 According to studies, a good 2/3 of all workers would like a 4-day week. Currently under discussion and on everyone's lips, the bag supplier Joytex, after short and detailed planning, is quickly striving for implementation and is thus the first medium-sized industrial company in Rhede and the surrounding area.
The bags are packed – from/as of 1 May, Joytex is taking a day off. And that means an extra day every week. The screen printing company, known in the industry for its promotional bags, with a 15-person team in administration and 35 workers for warehouse and production, which imports bags and prints them on 10 machines in Rhede, has quite appropriately chosen 1 May, "Labour Day", for the start of the 4-day week.
Managing Director Katja Übbing-Mölders has been following the discussions about the British project on working time and, after immediate enthusiasm, began to sketch out how it could be implemented for her company: "When it became clear to me that, with a few organisational steps, it could also be implemented for our company, I immediately shared my thoughts with the managers. The idea immediately inspired everyone and so we were in the concrete planning phase in no time at all – now the model is in place, we are reducing the working hours to 36 hours with the same pay. And from 1 May, after restructuring and the creation of legal certainty through additions to the existing employment contracts, we can get started – or rather: go free!"
If things go as planned, productivity will be maintained or even improved, creating more work-life balance for everyone at Joytex. This again increases motivation among the staff. The PSI Journal takes a detailed look at the trend-setting project in its May issue. www.joxtex.de
Photo: Looking forward to long weekends at Joytex with their colleagues: Managing Director Katja Übbing-Mölders and Authorised Signatory Sven Weidemann.