Schneider and Luxor from India: future-oriented cooperation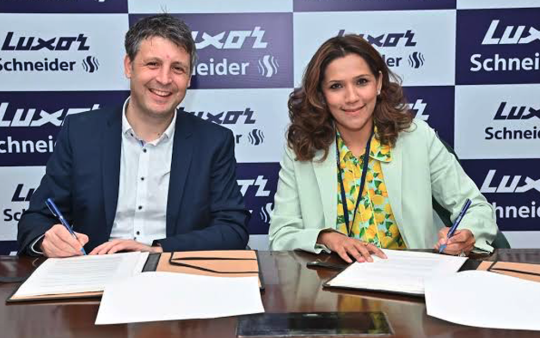 In March 2023, Schneider Schreibgeräte GmbH signed a cooperation agreement with Luxor Writing Instruments in New Delhi.
Pvt. Ltd. Luxor is an established manufacturer of writing instruments who also incorporates the licensed production for renowned brands in the Indian market. Like Schneider, Luxor is a family business. The cornerstone for the Luxor Group was laid in 1963 by the late Shri D. K. Jain, and since then the company has grown rapidly to become the country's leading brand for writing instruments. Today, the business and fortunes of the company are managed by his daughter, Pooja Jain Gupta. As Managing Director, she carries on her father's love for brands, technology, innovation and global orientation, and represents a young, modern, female generation that is taking the lead and redefining the self-confident role of women in India.
The cooperation includes the distribution of the Schneider Made in Germany range, as well as the licensed production of selected Schneider products for exclusive distribution in the Indian market, in Sri Lanka and Nepal. In addition, Schneider supplies system components from its domestic production, which are installed in Luxor products. Indian consumers benefit from the "Made in Germany" quality and engineering, as well as the sustainable production, which Schneider also insists upon in India. Skilled specialist personnel ensure that the local production of Schneider products is to their usual high quality standards.
The strategic partnership combines Luxor's brand equity, manufacturing expertise, distribution strength and its thorough understanding of the Indian market, with Schneider's technological know-how and high-quality product range. According to a company statement, the cooperation gives Schneider expanded access to one of the largest and most attractive consumer markets in the world. "Luxor's popularity will significantly enhance brand awareness with this co-branding. The partnership thus goes far beyond providing technology. It is geared towards a strong market position into the future for both brands and has a significant added value for both partners," says Christian Schneider from the management board. "Both companies are willing to invest in the market for this cooperation. This is evident, among other things, in a wide-reaching launch campaign in the Indian market, which includes a collaboration with national youth icon and cricket legend Virat Kohli as the new face of Luxor, representing the highest standards of performance and excellence."
Photo: Pooja Jain Gupta, Managing Director Pvt. Ltd. Luxor, and Christian Schneider, Managing Director Schneider Schreibgeräte, at the signing of the cooperation agreement.