Tie Solution: New image website with integrated Chat GPT interfac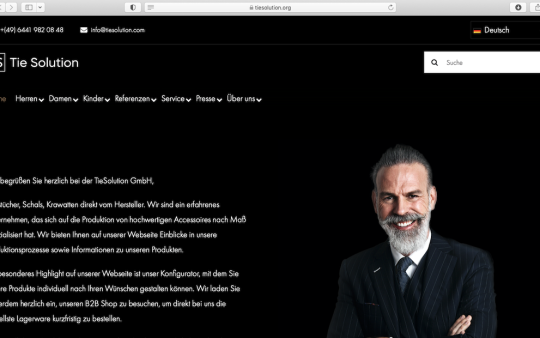 Tie Solution GmbH – the renowned manufacturer of accessories such as shawls, scarves, twilly scarves, ties, suspenders (braces) and much more – has launched a new image website at the beginning of April 2023. The website of the Wetzlar-based company is available in a total of 30 different languages: www.tiesolution.org. It will be expanded by another 20 languages shortly after the launch and will include an integrated ChatGPT interface for customers to use. According to Tie Solution, the new image website is a comprehensive information platform for B2B clients, such as promotional product distributors, industry and trade clients, advertising agencies and other businesses. The new website offers information on the production processes Tie Solution uses to produce its accessories and makes it possible for clients to request a quote directly from them.
Tie solution recently set up a new, in-house IT development department to offer clients even better services. Within this framework, the company has developed a ChatGPT interface that makes it possible for clients to have all texts originally written in German translated into their respective languages. This interface facilitates communication between clients and the company so that it is even faster and more efficient. The Chat GPT interface uses the latest technology and algorithms to enable a seamless translation from German into different languages. The result is reliable and precise translations.
Additionally, Tie Solution is announcing the introduction of a 'new and pure B2B shop', which gives clients the opportunity to design tailor-made accessories themselves. Thanks to the new accessory configurator, B2B clients can create their own personal products without having to rely on external designers.
By taking these measures, Tie Solution wants to pursue its expansion plans in Europe and to appeal to a broader client base, especially abroad. The company's Managing Director Antonio Gea-Sanchez remarks, 'The introduction of the new interface between Tie Solution's ERP systems and resellers will make collaboration easier and will facilitate the dissemination of information. Our national and international clients will now be able to have a comprehensive source of information at their fingertips, which will enable them to be better acquainted with our products and to request quotes directly from us'.
More information is available at: www.tiesolution.org • www.tiesolution.de • www.tiesolution.es