REFLECTS® RETUMBLER-myVivero wins Red Dot Award 2023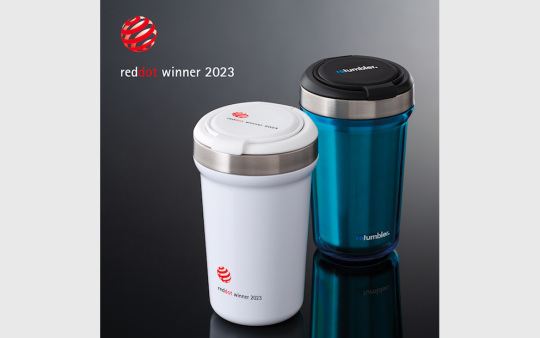 The configurable thermo mug RETUMBLER-myVivero, an in-house design by Cologne-based multi-specialist for haptic promotional products REFLECTS® GmbH, has been awarded the coveted Red Dot Award in the category Product Design 2023. myVivero convinced with its good design quality and high degree of innovation. The product fulfilled the strict selection criteria of the international Red Dot jury. The entire Reflects team is absolutely happy about the award. The official award ceremony will take place in Essen in June.
Released in autumn 2022, the 350 ml thermo mug can be configured online from twelve mug colours and two lid colours. The transparent or opaque outer mug can be used as another drinking mug if required. A stainless steel inner mug which appears to float inside conveys lightness and at the same time provides good insulation. If an advertising message is placed on the transparent outer mug, it gains a new visual dimension. The infinitely adjustable lid can be printed with a large-area UV print or 1- to 2C pad printing.
Even during development, focus was set on sustainability, so the materials are easily separable and the final assembly of the article takes place at the company's headquarters in Cologne. This saves REFLECTS® emissions in logistics and transport. RETUMBLER-myVivero is CO2e balanced and is compensated by supporting an environmental project.