marke[ding] Wien: Record attendance at the Vienna Hofburg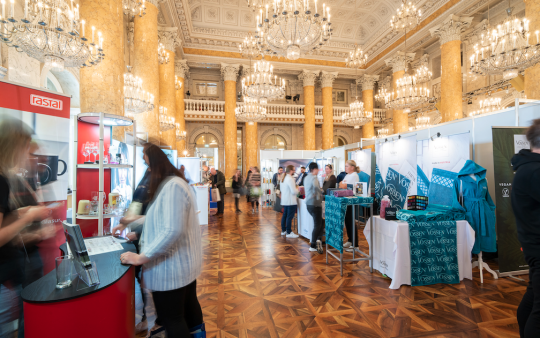 On 18 April, the rooms of Vienna's Hofburg opened once again for this year's edition of marke[ding] Wien. The established "specialist trade show for haptic promotion and visual communication" regards itself as a "trend barometer and instigator of the Austrian promotional products landscape" and, this time, took place under the keyword "Sinnjektion", which expresses the aim to "inject some meaning" into promotion. Besides the initiator Martin Zettl, the organisers are the six supporting agencies Forum Werbemittel, kw open promotion, Mitraco, Nowak Werbeartikel, Pro Concept and Wertpräsent. These were able to extend a welcome in the Hofburg to a total of 2,137 specialist visitors, who were presented with new products and promotional ideas by 125 exhibitors.
Martin Zettl was clearly impressed by the visitor numbers: "By my estimate, the trade show was the most successful trade show so far in the Hofburg Wien. In particular, we were all very happy to see the lively visitor interest right throughout the day. Since the coronavirus restrictions ended we're noticing a pronounced need to catch up in the MICE sector. People just need live communication, real entertainment and in-person dialogue again. We are also observing this trend at specialist trade shows which, not so long ago, were virtually declared dead and are now experiencing an impressive renaissance."
Zettl continues: "The best figures so far in the trade show history of marke[ding] Wien prove, once again, that haptic promotion is among the most in-demand promotional supports of our times. At the same, the products' diversity is as great as their impact. They are brand messengers and are frequently used on a daily basis. Long-term visibility is thus guaranteed."
Equally co-responsible for the success, reports Zettl, is the right product range. "The wide selection, consisting of the offerings by branded product makers, global players, generalists and niche producers, enables virtually boundless, creative latitude. For every occasion and every budget," comments Zettl. "We have also seen completely new ideas, which have become a draw again and offer sustainable benefit." He tells that networking has become a vital part of marke[ding]. "More decision-makers from management, purchasing and marketing discussed developments than ever before, drawing a picture of the future of haptic promotion and visual communication," summarises Zettl.
The next edition of marke[ding] Wien will take place on Thursday, 11 April 2024, again on the premises of the Hofburg Wien.
Photo: ©vogus