Culinary art meets fashion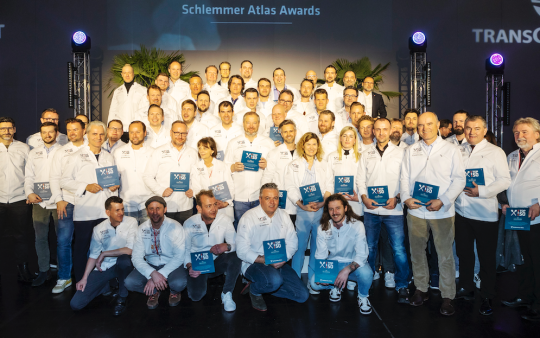 Would you like to experience the best chefs in Austria up close? This was possible at the Transgourmet PUR trade show in Salzburg on 17 to 18 April this year. During these two days, visitors could taste and enjoy a wide variety of dishes and drinks. The highlight of the trade show was the Schlemmer Atlas (Gourmet Atlas) award ceremony, where the "crème de la crème" of the restaurant and hotel industry is distinguished. The award ceremony has been held since 2012 to appropriately acknowledge the best chefs in Austria. This year the marketing director of the Busche publishing house, Jörg Leu, and managing director, Johannes Großpietsch, moderated the award ceremony, which was followed by up to 4,500 spectators.
The uniform appearance of all award winners was a true eye-catcher during the ceremony. The top 50 chefs from Austria shined in the elegant DIAMOND CUT® chef jackets from the company Karlowsky Fashion. Every award winner was given his or her own specially embroidered DIAMOND CUT® chef jacket by Karlowsky managing director Thomas Karlowsky before the ceremony in the Schlemmer Atlas Welcome Lounge. The exquisite DIAMOND CUT® Elegance creates the perfect ensemble of elegance and modernity and enables perfect wearing comfort. With the super-light piqué-cotton blend and a back part made of jersey piqué, which ensures pleasant ventilation and functional perspiration, it offers every chef more freedom of movement and still an elegant and modern appearance. This top-class chef jacket is therefore perfectly suited to the luxurious world of starred restaurants.  www.karlowsky.de
Photo: The 50 chefs shined in the elegant DIAMOND CUT® chef jackets from the company  Karlowsky Fashion.