Excellent booking level reflects recovery in the promotional products industry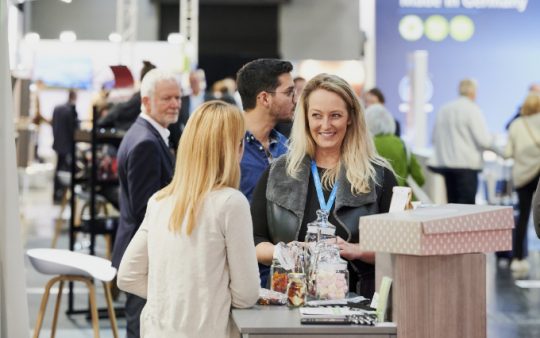 With around eight months to go before the event begins, Europe's leading trade show for the promotional products industry has cracked the 50 percent mark. More than half of the floor space planned for PSI 2024 has already been booked. Among the exhibiting companies: numerous industry leaders, up-and-coming newcomers and returnees.
From January 9 to 11, PSI marks the start of the 2024 trade show year in Düsseldorf. After its successful post-Covid comeback, Europe's leading trade show for the promotional products industry has already recorded a high level of bookings for the next edition.
Much committment from big names and newcomers
"The Jung company was an integral part of PSI for years. However, we needed time to reposition ourselves after the influences of the Corona pandemic. After two successful years of reorganizing our company, we are now ready to show ourselves again on Europe's biggest promotional products stage," explains Dennis Dennig, Managing Director of JUNG since 1928, and reveals, "We will be returning with a completely new brand identity that will make its debut at PSI. We look forward to continuing the successful partnership of Jung and PSI."
Just like PSI returnee JUNG since 1928 and many others, badge4you, Doppler, Dreampen, Easy Gifts, Eurostyle, Inspirion, Kalfany Süße Werbung, MACMA, RitterPen, Senator, Tfa Dostmann, TROIKA Germany, Trotec, as well as the Leuchtturm Group and the JCK Group have signed up for PSI. And also internationally the response is very good with registrations from ANDA PRESENT, Croatian Umbrella, Giuseppe di Natale, Pagani Pens and Toppoint, among others.
Promotional items impact
"Communication has changed in many ways and increasingly demands adjustments in the use of haptic advertising. Accordingly, all considerations on the targeted use of promotional products are just as important as that of multisensory marketing tools or online forms of advertising," PSI Director Petra Lassahn is convinced. "Through its emotionality, added functional value and pleasure of use, the promotional item is an effective, tangible point of contact with brands, companies and service providers."
International and applicable: Continuing education with added value
As a trend-setting platform for haptic advertising, PSI will show how promotional products can work in the supporting program. Textiles will be a dominant theme – after all, 60 percent of PSI visitors said in the last survey that they were particularly interested in textiles. The top theme will be taken up by the Textile Village, among others. Here textile manufacturers, brands and suppliers will show their advertising and promotional textiles as well as textile collections for 2024.
Other highlights include PSI Live TV, where exhibitors can present their products and services in half-hour interviews, and the specialist lectures in the PSI Forum. Here, international speakers will discuss the challenges facing the industry on all three days of the trade show.
A main focus will be on legal topics. Whether updates on supply chain due diligence, clarification on product liability, product labeling and testing or an overview of marketability, product safety, logistics – visitors can expect valuable information concerning the European market.
The practical know-how block, which will explicitly offer retailers added value for their own business, will be continued and further developed. Essential business knowledge will be covered, from the professional design of web presences and web stores to the development of social media successes and the use of artificial intelligence in topic identification, text creation and marketing support.
Under the thematic roof of sustainability, visitors can expect exciting technical papers on seals, certifications, circular economy and due diligence. Also exciting: best cases in the field of upcycling, recycling and products with which users can act sustainably.
In terms of finishing, for example, the latest printing technologies and printing processes for finishing promotional items and/or promotional textiles will be presented.
Special finishing show: Ready for the museum
Unusual promotional items and textiles will be designed by visitors themselves in the hands-on finishing special show using the latest technologies and applications – in a museum store to be installed at PSI in 2024.
The Netherlands as a partner country
A special focus will be on the partner country of PSI 2024: the Netherlands. In a country pavilion, business and institutional relations can be intensified in personal exchange. In addition, the daily Morning Briefing and technical program of the PSI Forum as well as the design of the Community Café will take up topics related to the Netherlands.
The transnational supporting program is complemented by the activities of the international industry associations. For example, the Advertising Specialty Institute (ASI) from the USA, Sourcing City from the UK and PSI are jointly hosting the Promo Alliance Reception on the first day of the trade show.