L-SHOP-TEAM launches Code of Conduct in collaboration with suppliers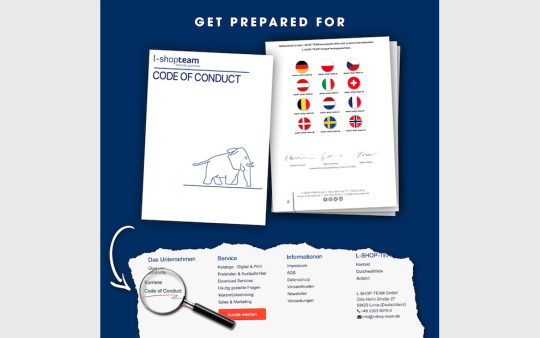 The German textile supplier L-SHOP-TEAM has taken on added responsibility and published a Code of Conduct in collaboration with suppliers. According to a corporate release, responsibility in relation to industry-relevant principles of conduct and standards has increased in parallel to the company's growth. The textile wholesaler is now active Europe-wide with its subsidiaries in 12 countries, and with its Code of Conduct now aligns itself with internationally established standards.
The European Parliament in Brussels voted for the EU-wide Supply Chain Law with a stable majority. With that, the law already passed in Germany concerning major corporations' duty of care in the supply chain will also apply for medium-sized companies in the future, and will do so across the EU. L-SHOP-TEAM welcomes this step.
A few months ago, the online wholesaler published its in-house Code of Conduct. That is based on the behaviour code of the Confederation of the German Textile and Fashion Industry (text it + mode) and of the Handelsverband Deutschland (HDE).
L- SHOP-TEAM has voluntarily undertaken to act according to this code of conduct, which aligns the company's actions with internationally established standards concerning human rights and employment norms, environmental responsibility, and ethical business practices and integrity. The online textile wholesaler is convinced that it will now be able to make a difference together with its employees, business partners and suppliers and is striving to make continuous improvements. "It is important to be made responsible and accountable for our outcomes if we intend to create equal starting conditions and achieve the greatest possible leverage for changes," comes word from the L- SHOP-TEAM management. "We need legislature concerning the duty of care in the area of human rights and the environment." The Code of Conduct can be found on the company website at: www.l-shop-team.de