Cybergroup BeachCup 2023: sun, fun, and smashing stars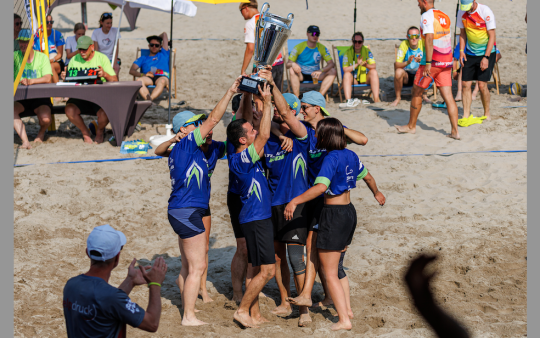 The fans of the game had to wait three years. But on 17 June 2023, the time had come again: for the ninth time, the Cybergroup had invited to the BeachCup in Ketsch. 30 teams from and outside the promotional products industry came from Germany and abroad. Bright sunshine, summer temperatures and the best atmosphere on and off the beach fields provided the ideal setting for the sporting event, which was held in parallel in four arenas.
Worthy of an international sporting event, the defending champions, the "Smashing Bankers" from Volksbank Kurpfalz, were the first to enter the arena with their winner's trophy from 2019. The other teams followed – frenetically welcomed by the cyber cheerleaders and the audience. From the DJ Tower, DJ la Dous provided appropriate musical accompaniment throughout the tournament, moderated by Kevin Gerwin. The beaming sporting winner of the day was the "Atlantis Fioi" team from Master Italia, who beat the "Mahlwerck Chiggers" in the final in two sets. Third place went to the "Bärenbande" from Magna sweets, who beat the Prodir team in the "small" final.
In addition to exciting matches in the arenas, the audience also had a lot to enjoy outside. While the little BeachCup fans had fun on the bouncy castle and with face painting, the older ones could try their hand at the basketball shoot, where two people could throw basketballs into the baskets at the same time. There was also a highly frequented table football. Everyone also enjoyed the culinary delights – whether it was barbecue, ice cream or cake and, of course, well chilled drinks. The Players Night in the boathouse was the festive finale. "What a magnificent day. 13 hours of sunshine and 30 teams from all over Europe. Who would have dared to imagine this after the last three years. Thanks a lot to the whole team and all our guests," was the résumé of a happy und satisfied Steven Baumgaertner, CEO of cyber-Wear. (You can read a detailed report in the PSI Journal.)
Picture: The bright winners of the Cybergroup BeachCup 2023: "Atlantis Fioi" from Italy.
Picture: © Christoph Luthe / cyber-Wear