Fantastic backdrop for the elasto-Kids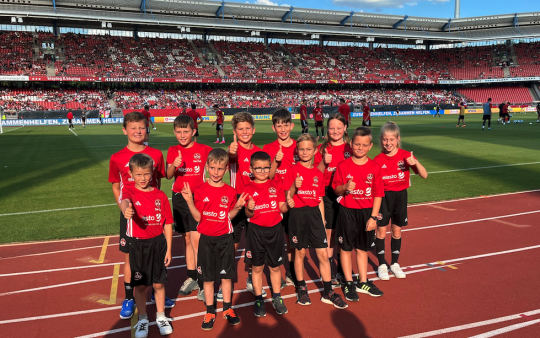 11 "elasto kids" were given a once-in-a-lifetime opportunity at the pre-season friendly on 13th July, the home match between the professional players from 1. FC Nürnberg and FC Arsenal London with the remarkable backdrop of the Nurnberg Max-Morlock Stadium.
Children aged between 6 and 10 years could walk out on the pitch hand-in-hand with their idols and experience the atmosphere up-close. The squad of the runners-up in the English Premier League is packed with national players such as Kai Havertz, Gabriel Jesus or the Italian European champion Jorginho.
elasto, the well-known international manufacturer of promotional merchandise from Sulzbach-Rosenberg, has been committed to supporting young players and their passion for football, along with the club and Nurnberg youth football teams, ever since "Freunde fördern Fußball", the supporters' association at the club's academy, was founded two years ago.
"We're delighted to have offered children this one-of-a-kind opportunity" said Marcus Sperber, managing director at elasto. "We want to inspire young people, strengthen their passion for the sport and support them in their dreams. We hope the children will remember this experience for a long time to come." www.elasto.de
Photo: The "elasto kids" had plenty of fun and enjoyed walking out on the pitch with the big stars in the friendly match between 1. FC Nürnberg and FC Arsenal London.