A full-line supplier thanks to addition of embroidery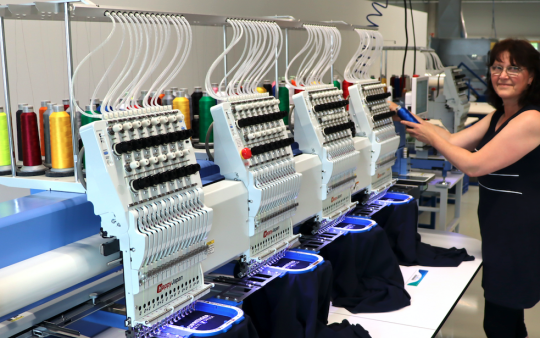 Last year, Abraham Dürninger & Co GmbH celebrated its 275th anniversary. The founder of the eponymous company laid the cornerstone for the business in the town of Herrnhut in Saxony. It has remained there to this day and has grown steadily to become a thriving international textile-printing firm with a modern structure, while both respecting tradition and fostering innovation.
This year, the 30th anniversary of its membership in the PSI Network, saw the launch of the embroidery department with the purchase of single and four-head machines, setting-up of appropriate premises, recruiting of further employees and training of existing staff. Thanks to the many years of experience as a contractor working with embroiderers from the region, the firm had already accumulated extensive expertise in embroidery.
"In expanding our business to become a full-line supplier that provides screen, digital, flex, transfer and DTF printing and now embroidery, Dürninger has identified a future market especially when combining embroidery and workwear", explains sales director Roland Lensing. "The entire business is GOTS-certified, including the embroidery, which is very much an exception. These days, most embroiderers have disappeared from the region, but we are breathing new life again into this long-established tradition in Oberlausitz", continued Lensing. (We reported on this in depth in the double edition of the PSI Journal for August/September) www.duerninger.com
Photo: New in the portfolio of services from the textile-printing specialist Dürninger: quality embroidery times four.