Developing expertise and continuing education: A KPI of PSI.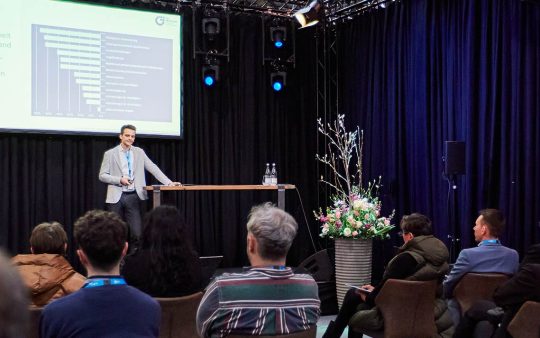 From 9 to 11 January, leading experts from the world of advertising and sales will share their knowledge and experience on the latest business topics at the PSI Forum – intensively, practically and in personal exchange with participants on site in Düsseldorf.
Learning from experts, exchanging experiences and making new contacts: with this recipe, the three-day specialist program of the PSI Forum is an integral part of Europe's leading trade show for the promotional products industry. The professional training program imparts practice-oriented special knowledge for direct application in everyday professional life.
Upskilling at the highest level
"Shortage of skilled workers, unstable supply chains and digitalization – the current challenges are great. In line with this, interest in high-quality, customized education formats is rising significantly," observes PSI Director Petra Lassahn of the trend in Europe's largest promotional products network. She explains, "In order to continue to meet our 'educational mission' at the highest level, we are counting on an internationalization of our specialist program in the PSI Forum for 2024."
Learning environment: trade show with added value
From January 9 to 11, PSI visitors can look forward to around half of the presentations being in English, with German being translated into English and vice versa. After all, 2023 trade visitors from 75 countries traveled to Düsseldorf.To make it easier to select suitable sessions, the high-quality presentations are divided into the thematic strands "Practical Knowledge" and "Sustainability". In addition, there will be morning briefings focusing on Dutch top sellers – in line with the choice of the first PSI partner country.
Plan for further training: These lectures are already scheduled
Highlights in the area of sustainability include the lectures "Talking Supply Chain Transparency", "The main thing is that the supply chain is right", "Design, material, origin?What customers love about sustainability" and "Sustainability in the DNA: How startups are boosting the promotional products industry with innovative product ideas."
Applicable practical knowledge will be clustered into different focal points for visitors. For example, the following presentations on relevant legal topics are already confirmed: "Product safety in 2024: mandatory for every product and always different" or "The market of fakes: how companies protect themselves from plagiarism and trademark infringement".
For beginners and experts: tech topics, best cases and trend knowledge
The PSI Forum offers the following key notes on forward-looking digital topics: "Cyber Security for digital gadgets – How to secure upcoming rules and regulations for connected products and how they are affected by the new requirements", "Product Compliance in the online store. How online store operators can protect themselves from warnings from competitors, warning lawyers or market surveillance authorities", and "AI is changing the world. How to use programs like ChatGPT for topic discovery and text creation."
The Practical Knowledge strand is complemented by inspiring best case presentations (including "From Textile Waste to New Products") and the application-oriented presentation of trend knowledge (including "Finishing Promotional Products. On today's options for promotional affixing").
The full PSI Forum program with announcements of the individual speakers will be published in September at www.psi-messe.com.
About RX
RX's mission is to create business for individuals, communities and organizations. By combining data and digital products, RX makes 400 events more engaging across 42 industries and 22 countries. RX is part of RELX, a global provider of information-based analytics and decision tools for professionals and businesses. www.rxglobal.com