Win new customer segments with digital textile printing technologies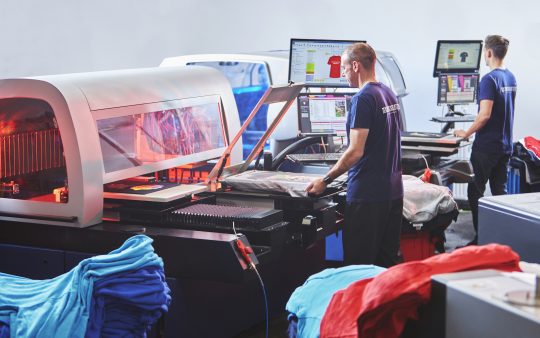 Four months after the successful conclusion of the plan insolvency process, Textildruck Europa has developed from the first independent printing company in the GDR to a significant player in the field of textile printing and fulfilment services in Europe. The company offers a wide range of options for finishing textiles through printing.
A crucial step during the turnaround and realignment process was the investment in state-of-the-art technologies for digital textile printing. In our interviews, we exchanged views with both Lars Losse, CEO of Textildruck Europa, and Jean-Luc Losse, Head of E-commerce.
Why did you consider adding digital printing capabilities? What did that offer that would have been a challenge for screen printing?
Jean-Luc Losse: "Digital printing of course has quite different advantages than screen printing. We integrated digital printing with a first Kornit Digital press eight years ago now. The main reason was the production with a run of one, i.e. one piece per design, which is not possible at all with screen printing. Print-on-demand is still our main use for digital printing today."
When choosing the production process, how do you decide per customer and job what is to be produced in screen printing and what in digital printing?
Jean-Luc Losse: "In some cases it is quite clear: for print-on-demand, run one, only digital printing works; for motifs with few colours and for large quantities, only screen printing makes sense. And for everything in between, i.e. short runs and multi-coloured motifs, the production costs are decisive in the end."
Why did you choose Kornit Digital technology and not another supplier?
Lars Losse: "For us, print-on-demand was the focus at that time, and we looked for possibilities on the market to produce digitally. We looked at various systems, but Kornit Digital was almost the only supplier at that time that had digital printing machines for textile finishing to offer at all. So the decision was made for a Kornit Digital system together with a pallet and a dryer to get to know this area and to connect digital printing technically bit by bit."
What opportunities has digitisation created that you could not exploit with screen printing alone?
Jean-Luc Losse: "With digital printing we can produce on-demand, i.e. only on order, run one. We don't have to produce and stock large quantities, we don't produce too much, only what is needed at the moment. And the second big advantage is individualisation. Every motif can be unique in digital printing – with names, with individual pictures and so on."
Lars Losse: "I am convinced that our investment in digital printing was the right decision at the time. Beyond print-on-demand, it gives us the opportunity to produce multicoloured prints in smaller runs at low cost. In screen printing, you first have to create a film, i.e. a print template, then a screen and you have to set up the machine. Digital printing does away with all that. That's why multicoloured motifs can be produced very cheaply in short runs."
How many Kornit Digital systems do you currently have in use? And why have you continuously upgraded in this area?
Jean-Luc Losse: "We currently have four Kornit Digital systems. The first of these was a Kornit Digital Hexa, shortly followed by a Kornit Storm Hexa, both still in use. A year and a half ago we got the Kornit Avalanche HD6 and last year for Christmas we got the Kornit Atlas MAX.
The main reasons for these investments are, on the one hand, the higher output of the systems and, on the other hand, the better colour technology – i.e. more beautiful colours, better, more attractive prints. We are keeping the older systems to continue printing specific products for which these presses are still well suited."
What types of materials/textiles have you printed on so far?
Jean-Luc Losse: "The core products we finish are T-shirts, sweatshirts, hoodies and jackets, and mainly cotton – blends from 50-50 to 85-15 or even 100% cotton. This applies to both screen printing and digital printing. Nothing significant has changed about that over the years."
Have you experienced anything with Kornit Digital that you have never seen before?
Jean-Luc Losse: "Yes, on the one hand the on-demand production, the run one in production, and on the other hand the customisation, which is not possible at all in screen printing – or only via other processes such as transfer, flex and flock, but where the quality is lower. So we were able to generate a completely new customer base that was previously unthinkable."
Where do you see the greatest benefit from the new technology?
Lars Losse: "I think that digital printing is generally an enrichment for the textile finishing market. For us as producers as well as for our customers, it has opened up completely new fields of business. I see this as a great opportunity for the entire market. Despite flooding and overheating in the merchandising sector, the industry can continue to develop and grow."