Corporate Fashion: Daiber campaign conveys competencies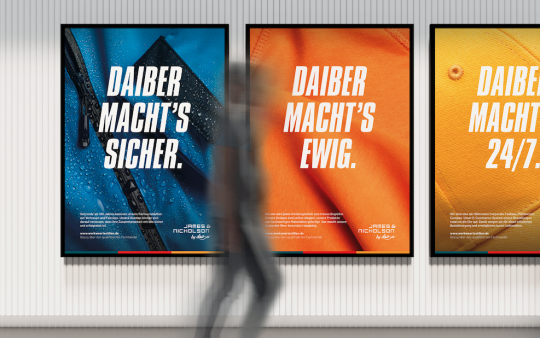 The company Gustav Daiber GmbH is presenting its core competencies in its latest 'Daiber macht's' (Daiber does it) campaign. The campaign describes what and who is behind the products from its own brands, such as JAMES & NICHOLSON by Daiber, and transports the internationally active company's main aspects of the brands' essence.
The current campaign puts Daiber's strengths at the forefront: This campaign stands for a doer mentality and future-oriented perspective, which have been integral to the company's success story for 111 years. The aim of using claims like 'Daiber macht's ewig' (Daiber will do it forever) and 'Daiber macht's verbindend' (Daiber unites) is to convey the essence of the corporate fashion manufacturer's core competencies. Kai Gminder, who is the fourth generation of the family to run Daiber, states, 'With our campaign, we are, once again, making ourselves and our business partners aware of the fact that our partners and customers are our top priority. We support their business with our need-based services and help them express their identity with our corporate fashion. This is what distinguishes our work, and the name Daiber has always stood for this at its core'.
With a love of detail for textures
The campaign motifs showcase different fabric textures, such as the polos or multi-functional jackets from its own brand JAMES & NICHOLSON by Daiber.  A text field explains the products' added value, the services or the advantages of a partnership. The motifs address topics such as reliability, expert knowledge, corporate fashion, customisation and the binding effect of Daiber products. Marcel Helbig, Head of Marketing at Daiber: 'Daiber is a company that does not have to stand in the background. With the 'Daiber macht's' campaign, we are now deliberately coming to the fore for the first time as the company behind our corporate fashion products. For this reason, we have added the phrase 'by Daiber' to the JAMES & NICHOLSON brand name. More information on the company and products are available at: www.daiber.de
Photo: The corporate fashion company behind JAMES & NICHOLSON by Daiber conveys its core competencies with the campaign 'Daiber macht's'. (Source: Daiber)