PSI 2024 highlights finishing for promotional products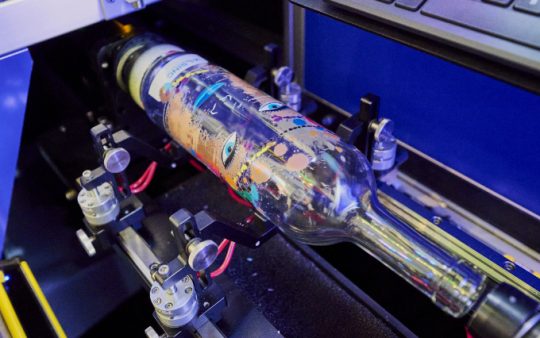 How is finishing so important in the promotional products industry? Which processes are particularly relevant? And what requirements need to be taken into account? PSI will address these questions with exciting highlights from 9 to 11 January 2024.
The specific potential of various finishing technologies for the industry will be demonstrated by the special show "Finishing" in Hall 10, where Cameo Laser, Epson Deutschland, Gravotech, Maegis, Mutoh Deutschland and X-tec Systems will present "Finishing" in real life under the theme "Ready for the museum".
Emotionally charged as a production site for a museum shop, the lovingly designed hands-on area 10/L71 arouses enthusiasm for state-of-the-art finishing technologies. Here, under the expert guidance of the suppliers, trade visitors can apply various finishing technologies and design their personalised merchandise items to take away at the trade show. Promotional items will be provided that can be finished with famous motifs by Dutch artists using UV printing, embroidery, laser engraving and various textile printing processes.
DTF and co: these finishing techniques are featured by the suppliers
Cameo Laser will be bringing state-of-the-art laser systems and demonstrating the labelling of promotional items with laser technology. Epson Germany will be focussing on the two processes of sublimation and textile printing using DTF (Direct to Film) and DTG (Direct to Garment). With sublimation printing, polyester-coated products can be easily and digitally finished, while a hybrid printing system is used to realise both DTG and DTF printing processes on textiles. Dutch company Maegis will also be presenting DTF, as well as a new solution for so-called UV DTF printing, which makes it possible to print on hard substrates. X-tec Systems is rounding off the range with DTF in conjunction with further processing using the transfer press. Gravotech is completely textile-free. The company will be demonstrating the engraving of logos, lettering and motifs on solid materials.
Exchange ideas and experiment in the new PSI THE LAB
A brand new open workspace for promotional products distributors in Hall 10 will focus on solutions for the development and commercialisation of promotional items. Those who have questions about regulations relating to sustainable and safe product design, testing and certification, quality management, conformity and product safety, as well as patents and brand protection, supply chains and more, will find contacts for professional exchange in PSI THE LAB. In addition, trade visitors can experiment with current colour worlds in a laboratory atmosphere.
Pop-up museum: where finishing turns into art
To emotionally emphasise the added value of finishing for the promotional products industry, PSI is elevating the topic to art in the truest meaning of the expression. A kind of artists' quarter will be created around the PSI Community Café in Hall 10. A new feature is the pop-up exhibition "MoPA Museum of Promotional Articles". Together with Cyber Wear and supported by GXN, PSI is opening one of the largest galleries of its kind on all three days of the trade show. On offer will be a wealth of different promotional articles that will take visitors on a journey through time. Under the theme "Tradition meets Transformation", the exhibition will showcase everything from traditional classic promotional products to trendy new items.
In the neighbouring MoPA Café, trade visitors can enjoy coffee specialities and cold drinks in the ambience of a museum shop. On display: Replicas of MOPA exhibits and highlight products from the special finishing show.
More finishing providers among the list of exhibitors
The focus topic of finishing is complemented by the international range of exhibitors. For example, modico will be showcasing various technologies for decorating and labelling promotional products in Hall 9. Inkcups is a manufacturer of digital printing machines for cups and bottles and will be demonstrating practical applications at its booth in Hall 10. At the Gustav Daiber booth, the two embroidery experts Reiner Knochel – Textile Experience and Massimo Baezzato from ConStitch will be demonstrating how logos can be creatively realised on textiles. With the support of embroidery machine manufacturer ZSK, the logos will be embroidered on James & Nicholson brand clothing.