The cardboard trade fair stand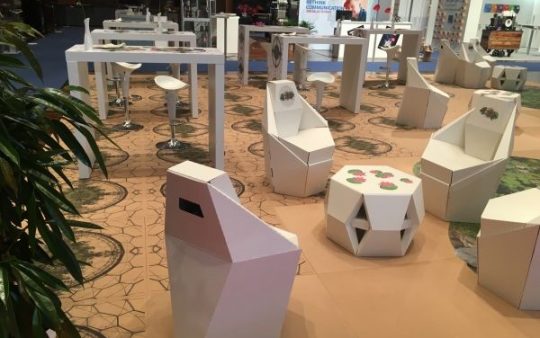 Sustainability plays a key role when it comes to erecting fairs and exhibitions too. OKI presented its stand made of cardboard at viscom 2020.
Cardboard and paper are some of the most common packaging materials out there. They are made of cellulose fibres obtained from timber and, increasingly, also from recycled products. As such, they earn a lot of brownie points when it comes to sustainability. OKI Europe has gone a stage further and uses cardboard not only for packaging but also as a raw material for building exhibition stands. Better known for its innovative printing technology, the company caused quite a stir at viscom 2020 with a stand made of cardboard. OKI was supported in this innovative project by Print Concept Roeber from Willich.
The walls of the booth were made from Flexiwall,a modular wall panel system which is particularly suitable for building partitions at trade fairs. The walls are 100 percent recyclable and made of cardboard and cellulose filler. The setup is made up of two components: the panels themselves, made of 3 cm-thick paper composite boards covered in paper on all sides, and square tubing, also made of cardboard. The panels are attached to the square tubing by means of recessed wooden hooks. The wall elements allow plenty of scope for creative printing so that they can be used to fill a wide range of functions. OKI kept the original white background and applied printed foils to the cardboard panels. The cardboard wall panels are not just of interest for fairs, however, this system could also be used in schools, museums, at art exhibitions, in shops or offices. The walls can also be impregnated with a non-inflammable coating. Fireproof wallpaper made of B1-certified materials is then applied to the panels.
Print Concept also offers a cardboard floor covering which is ecological, anti-allergic, individually printable, easy to use and simple to lay. The so-called Paprfloor is perfect for fairs and events because it can be printed individually with virtually all common printers and has the look of fine ribbed carpeting. Moreover, it is also flame retardant and even B1 certified. Print Concept Roeber convinced the prize jury materialPREIS of the product's quality in 2018. The sustainable Paprfloor came second out of a field of no less than 300 new products.
OKI has used Flexiwall for some years now and is very enthusiastic about this ecological alternative. Partitions made of cardboard offer several benefits: They are not only light and extremely sturdy but very easy to print and quick to erect. The material is also recyclable and durable.
OKI Europe: www.oki.de
print-concept-roeber GmbH: www.print-c.de