Brands Fashion presents a circular flow collection, including masks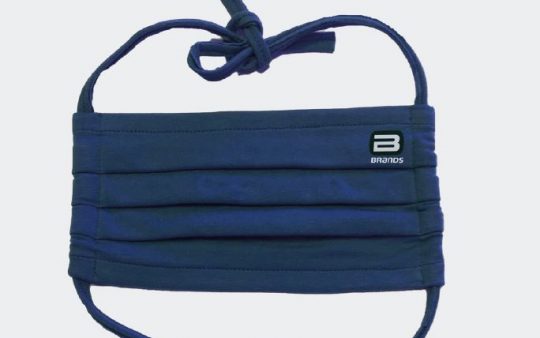 Brands Fashion has been committed to increasing sustainability in textile production for many years. Now, for the first time, they have created a Cradle-to-Cradle Certified (C2C) collection, including masks.
Even a global crisis cannot stop a pioneering spirit in its tracks: Brands Fashion, a specialist for workwear, corporate fashion and private label based in Buchholz, produced its very first circular flow collection in May 2020. The range is Crade-to-Cradle Certified™ (C2C) to gold standard. Each garment included in the customisable basic collection "Fashion for Future", consisting of printed hoodies, T-shirts, polo shirts and masks, is made of pure biocotton – including the fabric, thread, and even the label. The company solely uses harmless chemicals for dyeing, printing and processing. To achieve gold standard, Brands Fashion also used renewable energy and effective waste water management during production. Measures to promote social justice over the length of the supply chain have already been implemented as standard for some time. Certification partner is the famous Hamburg consultancy EPEA GmbH, part of Drees & Sommer. Brand Fashion's goal is to develop the programme still further. Football merchandisers and environmental organisations are among the first to declare an interest in the project.
The idea behind Cradle-to-Cradle is the circular flow economy. The goal is to develop products that can either be re-used entirely for equivalent products at the end of their lifecycle or are at least 100 percent toxin-free biodegradable. This way, they become important new nutrients for the soil and help form the basis for fresh raw materials rather than merely being waste. As Mathias Diestelmann, CEO of Brands Fashion, explains: "The aim is to promote a healthy circular system and to avoid the production of waste".
However, the new C2C collection is not the only sustainable innovation that Brands Fashion has to offer this year. The team announced at the PromoTex Expo in Düsseldorf in January that there would also be news regarding improvements in social standards in 2020. As one of the very first companies, Brands Fashion would like to introduce the first certified supply chain that meets Fair Trade Textile Standards. Unlike the familiar Fairtrade Cotton Seal that only certifies the raw material and, as a main benefit, secures cotton farmers minimum prices and premiums, the Fairtrade Textile Standard certifies the entire supply chain, right from ginning via thread and fabric manufacture, right through to the sewing process. Only if all the different individual textile manufacturing steps have been certified are companies allowed to use the Fairtrade Textile Seal on their products. Amongst other things, all companies involved in the supply chain have to undertake to introduce living wages within a period of six years. The certification process is considered to be well underway. Kalina Magdzinska, Brands Fashion's sustainability manager says, "We think that we will have everything up and running by the Autumn."
Images: Brands Fashion
Text: Regina Henkel