A flowering meadow for wild bees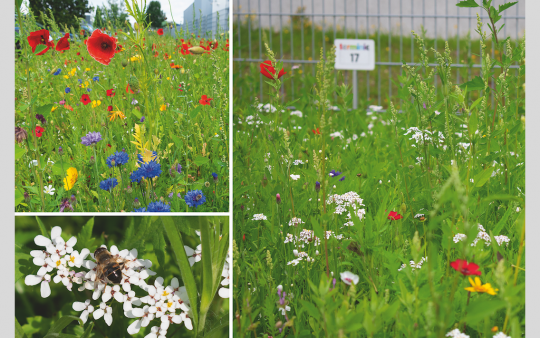 Calendar manufacturer terminic GmbH is bringing the A1 Hansalinie industrial estate in Bremen-Hemelingen to blossom: On the premises of the family business, a new habitat for endangered wild bees is springing up on a 450 square metre grass verge. After all, many foodstuffs would not exist without pollination by wild bees. Since the habitat for these bees is becoming increasingly scarce, terminic GmbH is committed to the endangered insect species and is creating a new habitat and food supply for the pollinators with a wildflower meadow.
In this way, the Bremen-based company is once again setting an example for environmental protection and sustainability: The manufacturer also produces calendars from sustainable paper and offers climate-neutral printing of promotional calendars. A bee sponsorship on the company premises has been promoting plant diversity in the Bremen-Hemelingen region since 2019. "Now it is also important to set an example for the wild bees. With a wildflower meadow on terminic's company grounds, we are setting a good example and would like to encourage other companies to contribute to the preservation of species diversity", explains Wolfgang Rolla du Rosey, one of the managing directors of terminic GmbH.
As one of the leading calendar manufacturers in Europe, terminic GmbH has been supporting social projects and has been committed to the environment for many years: annual fundraising campaigns, providing sponsorship for a bee colony in the Bremen-Hemelingen business park as well as promoting biological biodiversity in the region through the establishment of a biotope are just a few examples of sustainable management of the Hanseatic family business. www.terminic.eu
Photo: A new habitat for wild bees on the premises of terminic GmbH. © terminic GmbH