A home for 50,000 workers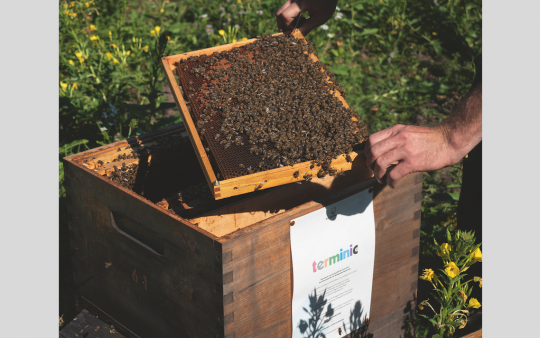 terminic GmbH, one of Europe's leading calendar manufacturers, is extending its bee sponsorship for the "Bienerei" for another year until summer 2021. Thus it is once again setting an example in terms of sustainability. In August 2019, terminic had for the first time taken over the sponsorship for an ecological bee colony on the company premises in Bremen-Hemelingen. Nearly 50,000 bees have their home in the so-called bee hive which is located at one of the gates of the Bremen family business. 'Bee-leasing' takes place in cooperation with the two brothers and organic beekeepers Axel and David Zehle from the "Bienerei".
"There are now many providers of bee sponsorships. At that time, we chose to sponsor the Bienerei because we wanted to promote the connection to the region and because we are genuinely concerned about the species-appropriate keeping of bees. Organic beekeeping follows clear guidelines and ensures that bees can live and work as naturally as possible. Therefore, the decision to extend the bee sponsorship for the Bienerei was a matter of course for us", explains Wolfgang Rolla du Rosey, one of the managing directors of terminic GmbH.
With its sponsorship for the humming employees, the Bremen-based calendar manufacturer is committed to biodiversity in the region. After all, many species in the plant and animal world are threatened with extinction or are already extinct. The bees not only pollinate the local crops for a high-yielding harvest, but also other plants that serve as food for many animals. In addition, bees themselves are endangered, as their habitat and food sources are dwindling due to increasingly industrialised agriculture and the many built-up areas.
The long-established calendar manufacturer from Bremen has also been actively promoting environmental protection and sustainability in the printing processes and in the region for several years now: in calendar production through sustainable paper and climate-neutral printing of promotional calendars – in the region through the creation of a biotope and the creation of a 450 square metre meadow for wild bees in the outdoor area. www.terminic.eu
Photo: A beekeeper from Bienerei ensures everything is right with the development of the bee colony and that the bees have enough space to survive winter now that they have finished producing honey. The nectar that is still being collected serves the bees as a source of food for winter. Photo: © terminic GmbH